About AARP: AARP is the nation's largest nonprofit, nonpartisan organization dedicated to empowering people 50 and older to choose how they live as they age. With more than 940,000 members in Washington State, and a nationwide presence of nearly 38 million members, AARP strengthens communities and advocates for what matters most to families: health security, financial stability and personal fulfillment.

For Immediate Release
February 27, 2019

Contact: Jason Erskine / 206-517-9345

Governor Jay Inslee discusses critical issues facing Washingtonians on call with thousands of AARP members from around the state

Olympia, WA – More than 6,500 AARP members from around the state heard from Washington State Governor Jay Inslee on February 27 as part of an AARP teletown hall focused on issues of importance to older Washingtonians and their families. The Governor touched on a number of topics including long-term care, prescription drug affordability, health care, education and climate change.

During the call, Governor Inslee signaled his support for a measure aimed at helping Washingtonians pay for care during a long-term illness, injury or disability. House Bill 1087, "The Long-term Care Trust Act," passed the House on Feb. 21 and is awaiting scheduling in the Senate Health and Long Term Care Committee.

"We have so many people that do not have provisions for long-term care, and they don't really understand that Medicare is not going to be able to solve the long-term care issue for them," said Governor Inslee on the call. "As in many cases, Washington State is going to lead the way this year by passing the Long-term Care Trust Act. For a very small premium, it's going to give people modest but important protections for long-term care," he said. Inslee added that he is hopeful the bi-partisan measure will now pass the Senate.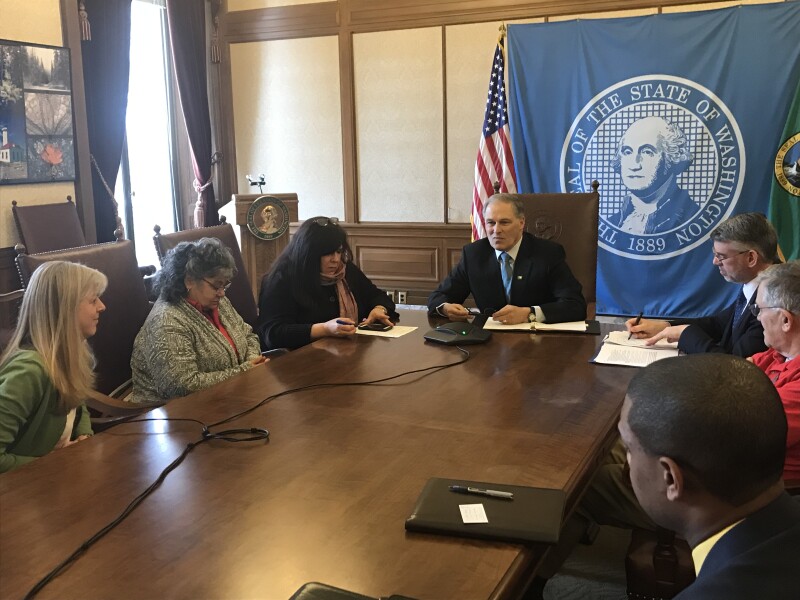 The Long-term Care Trust Act (LTCTA) would create a state long-term care program, providing Washingtonians with flexible and meaningful benefits, ensuring families can choose the care setting and services that best meet their needs. Based on a payroll premium of just over one half of one percent (.58%), vested and eligible workers would receive a lifetime benefit of $36,500, indexed annually to inflation.

"We commend the House for tackling the state's long-term care coverage crisis head-on and urge the Senate to continue the momentum by passing a long-term care solution we can all count on," says AARP State Director Doug Shadel. "Voters are speaking out and hoping their elected lawmakers are listening." More than 6,000 Washingtonians recently signed letters of support urging their legislators to pass the LTCTA. Similarly, an August 2018 poll of Washington voters showed that 73% support the concept of creating a long-term care trust. That backing increases among younger adults, with 83% of voters ages 18-34 supporting the concept.

During the call, Loretta from Bellevue asked the Governor what he is doing to lower the high costs of prescription drugs. "My husband's insulin went from $80 to $100, just like that – yet he can go across the border and get it very cheaply," said Loretta. "We are on Social Security only, and we can't afford gas to go much anywhere anymore. Our water costs us, our power costs us, and everything has gone up – and we're struggling," she said.

Governor Inslee responded by pointing to action needed at the federal level. "We need some help from the industry. We have not been able to fashion, in our federal government, a meaningful way to have market forces and negotiation on drug prices," said Inslee. "That has been a prohibition that needs to change so that we can have some degree of protection for our consumers and be able to negotiate to obtain reasonable priced pharmaceuticals."

According to the AARP Public Policy Institute, many prescription drugs have had substantial retail price increases every year since at least 2006. In 2015, retail prices for more than 750 prescription drugs commonly used by older adults increased by an average of 6.4%, more than 50 times higher than the general inflation rate of 0.1%.

"Drug companies are making billions in profits off seniors and hardworking Washingtonians. That's just wrong, and something has to change," says Shadel. "We need to do more to hold drug manufacturers and insurance companies accountable for skyrocketing prices."

A full recording of AARP's teletown hall with Governor Jay Inslee is available below. More information about AARP's 2019 state legislative priorities is also available online.




---

About AARP

AARP is the nation's largest nonprofit, nonpartisan organization dedicated to empowering people 50 and older to choose how they live as they age. With more than 940,000 members in Washington State, and a nationwide presence of nearly 38 million members, AARP strengthens communities and advocates for what matters most to families: health security, financial stability and personal fulfillment. AARP also produces the nation's largest circulation publications: AARP The Magazine and AARP Bulletin. To learn more, visit aarp.org/wa or follow @aarpwa