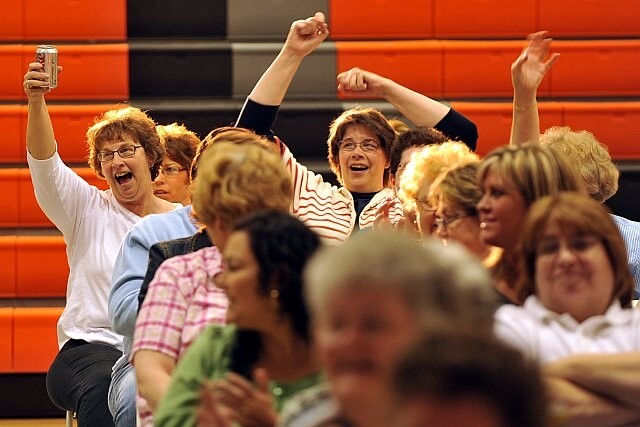 SORRY - BUT THIS EVENT IS NOW FULL. PLEASE KEEP AN EYE ON OUR WEBSITE FOR FUTURE AARP EVENTS AND OPPORTUNITIES.
The perfect recipe for creating new memories with loved ones includes good friends, good conversation and, of course, great food. As home cooks across the city head back to the kitchen to cook up summer's flavorful dishes, the Taste of Home Cooking School is preparing to share seasonal recipes that are certain to delight.
Taste of Home's local culinary specialist Kristi Larson will be at the Seattle Design Center on Saturday, June 7 for a free AARP event from 2:00 – 4:30pm to share her home cooking tips and tricks while demonstrating step-by-step recipes for the season's best dishes.
The Taste of Home Cooking School is America's leading cooking school program, inspiring more than 300,000 passionate home chefs at approximately 300 events nationwide. Attendees experience exciting recipe demonstrations using ingredients that are easily found at the local grocery store and best of all, the dishes are submitted by home cooks from across the country.
"From experienced home chefs to beginners learning their way around the kitchen, the Taste of Home Cooking School offers something for everyone – putting a fresh spin on old favorites and adding new recipes to your seasonal repertoire," said Larson.
Additionally, everyone will receive a gift bag with Taste of Home magazines, valuable coupons, product samples, and a free digital Taste of Home magazine subscription. Attendees can also enter for a chance to win one of many door prizes, including the recipes created onstage that night.
This event is free and open to the public – you do not need to be an AARP member to attend. But space is limited and registration is required ONLINE or by calling 1-877-926-8300. Also feel free to invite a friend or family member, but be sure to register ONLINE.
AARP also invites you to help support Drive to End Hunger by bringing nonperishable food items or contributions to the event for donation to Northwest Harvest.
"Taste of Home Cooking School" Show
Saturday, June 7, 2014
2:00 – 4:30pm
Seattle Design Center
5701 Sixth Avenue South
Seattle, WA 98108
Free parking
Register ONLINE, or call 1-877-926-8300