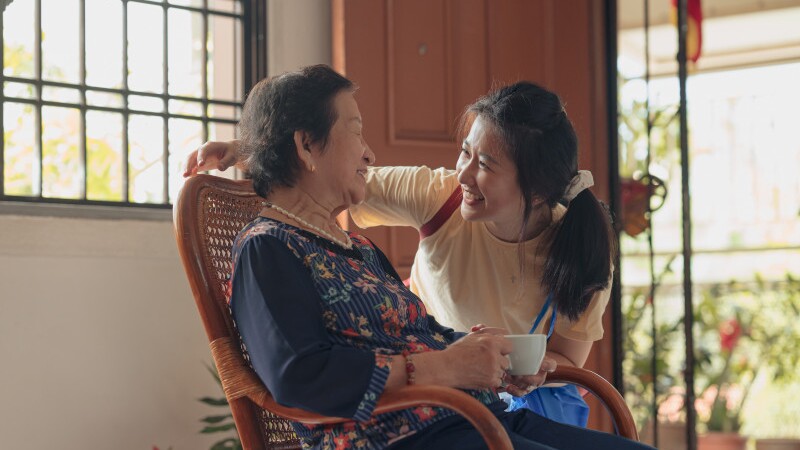 It Takes More than Love to Care for a Loved One.
Every day over 800,000 Washingtonians perform a great labor of love: caring for older parents, spouses, and other loved ones so they can remain at home—where they want to be.

Caring for a family member or close friend is one of the most important roles we are likely to play in our lifetime. Caregiving may start with driving your loved one to get groceries or going to doctor's appointments. As time goes by, you may help in preparing meals or handling bills, and you may find yourself taking time off from work to help. You may not think of yourself as a caregiver, but if you are helping someone with daily activities like getting dressed, managing medication and providing transportation to and from appointments, then you ARE a caregiver and AARP can help.

No matter where you are in your caregiving journey — starting to plan; taking care of a friend or family member be it in a home, a facility, or from a distance; or managing end-of-life caregiving responsibilities — having the right resources, information and connections can make all the difference.

AARP Washington is here to support caregivers – and the older loved ones who count on them. We are advocating for more support, services that are community-based or home-based, caregiver training and more. Please check out the many resources AARP has to offer on this page and thank you for joining us in honoring and supporting Washington's caregivers.


---
Featured
Long-term Care: More than just nursing homes
What are the images that come to mind when you hear the phrase "long-term care"? Do you think of adult family members preparing meals and caring for their parents? Or the mutual assistance that older adults provide to one another so that they can stay in the homes that they've been in for years and years? Or perhaps the certified nursing assistant who checks the vital signs of a nursing home resident? The reality is that long-term care comes in many forms and ways depending upon where we are in our aging journey. Read more


---
"Caring for Caregivers" video podcast series
AARP Washington's "Caring for Caregivers" video podcast series features discussions with local experts, community leaders, and caregivers just like you on a range of topics to help you along your caregiving journey.

This month, AARP State Director Marguerite Ro sits down with Dr. Anthony L-T Chen, Director of Health for the Tacoma-Pierce County Health Department, to talk about how we can deal with the challenges of caregiving, especially in the Asian American and Pacific Islander community, and how our public health system can work better for all. Dr. Chen talks about how caring for his parents has impacted him professionally and personally and what working with diverse communities has taught him.

Click here to see the discussion with Dr. Chen. And be sure to check back often to see new episodes of "Caring for Caregivers" each month.


---
AARP Family Caregiving Website
The AARP Family Caregiving Website provides an easy way to join an online community of other family caregivers, learn about local services, get helpful information, and connect with others who understand caregiving challenges.





---
---