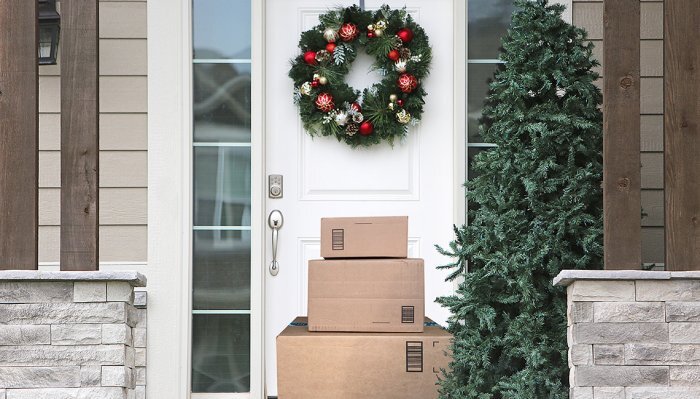 With an explosion in holiday spending — and shipping — approaching, it's time to outsmart package thieves.

The term "porch pirate" appeared as far back as 2011, when ABC News called it a "growing problem." By November

2020, a survey of 2,000 online shoppers showed that 43 percent — up from 36 percent a year earlier — said they had had a package stolen during the previous 12 months, Chicago-based C + R Research said. In the more recent poll, the average value of the purloined package was $136.

7 Simple Steps
The good news: There are steps you can take to protect your packages.

1. Retrieve a package as soon as it arrives. You can usually track a package, and if you're away, arrange for someone to be home when it's scheduled to arrive.

2. Have the sender require a signature for delivery.

3. Pick up your package someplace else. Using ship-to-store, you can often have an item sent to the major retailer that sold it.

- Amazon uses Hub Counter and self-service Hub Lockers for package pickup at retail locations, including some grocers and convenience stores.

- FedEx Delivery Manager lets recipients redirect delivery to a nearby FedEx office, Walgreens store or other location. In plugging the service, FedEx says package tracking only tells you when a package is delivered to your home but won't protect the item. It also warns that security cameras may not deter crooks and that lock boxes on your porch "can be expensive, difficult to install and take up valuable porch space."

- UPS Access Point Network has more than 19,000 pickup locations, including the UPS Store, CVS and Michaels stores.

- U.S. Postal Service (USPS) Package Intercept lets consumers — for a fee — stop delivery or redirect certain packages that are not out for delivery or already delivered. This is not a guaranteed service and conditions apply. That said, U.S. mail and packages can be held at no cost (see Step 4, below).

4. Going out of town? Tell USPS to hold your mail and packages at the post office or until you request home delivery. Mail may be held for up to 30 days.

- FedEx also allows vacation holds and so does UPS, though terms differ.

5. Have the package placed out of sight. Stickle uses a lockable porch box with numerical codes that delivery personnel use for access. The box can be anchored, for example, to decking or concrete.

- Short of something like that, instructing a delivery person to place a package behind a planter, bench or column on your porch can help kept it hidden, Stickle says.

- UPS My Choice lets recipients leave instructions about where packages should be left, such as at a back door, on the side of a house or with a neighbor. That service is free, but requesting delivery of a package to another address has a fee.

6. Consider a door camera for security. With some devices, you can use your phone, tablet or personal computer to see, hear and speak to anyone who has rung your doorbell or triggered motion detectors. However, as Stickle's study shows and FedEx cautions, some crooks simply ignore door cams.

- That said, if you happen to catch a thief in action, save the footage and alert the police. If it's U.S. mail that's been stolen, postal customers are urged to save the video and contact the U.S. Postal Inspection Service by phone (877-876-2455).

7. Stay informed and watchful, and be a good neighbor. Nextdoor.com, Crime Stoppers and social media posts from law enforcement sometimes spotlight porch piracy.

Stickle remembers from his years as a patrol officer that when a neighborhood was hard hit by crime, until residents took action, "it was almost impossible" for police alone to improve things. "I would really encourage your readers, some of whom may be at home, to keep a careful eye out [and] be involved in their neighborhood," he says. "And alert the police or other neighbors if you have somebody who looks like they're stealing packages."

Crooks can be creative, he cautions. Some tail delivery trucks to snap up fresh deliveries or masquerade as delivery drivers, even carrying dummy packages or holding papers and clipboards to hide the fact that they're up to no good.