On behalf of nearly 250,000 members in the Mountain State, AARP West Virginia has delivered thousands of signed petitions to U.S. Senator Joe Manchin, calling on Congress to act now and stop unfair prescription drug prices.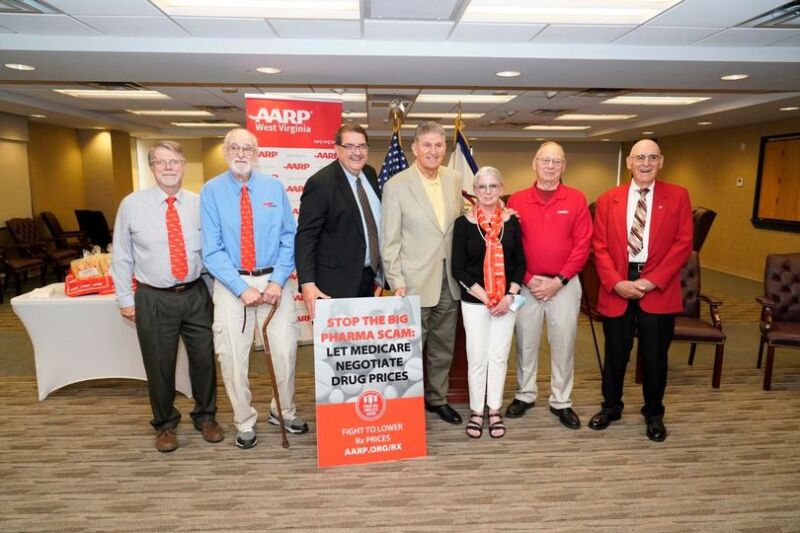 AARP has called for fair drug prices for years and supports legislation that passed the House in November, which would allow Medicare to negotiate drug prices, put a cap on out-of-pocket costs that older adults pay for their prescription drugs and impose penalties on drug companies that raise prices faster than the rate of inflation.



AARP West Virginia advocates joined Senator Manchin for the May 31 presentation at the Senator's Charleston office. You can watch the presentation and remarks from Senator Joe Manchin and AARP West Virginia Associate State Director Tom Hunter below:

"West Virginia's seniors helped build this nation, and I'm committed to ensuring they have the quality of life they deserve," Senator Manchin said in a statement on his social media channels following the presentation. "By allowing Medicare to negotiate drug prices, capping the cost of insulin at $35 per month, and allowing the importation of drugs from Canada, we can lower prescription drug prices in America. We must take action & keep the promises we've made to our seniors."

Lowering prescription drug prices has widespread support among voters, regardless of their party affiliation. An AARP survey of voters found that strong majorities of voters want Congress to act on the issue, with 70 percent saying it is very important. The survey also found that 87 percent of voters support allowing Medicare to negotiate prescription drug prices.

AARP's Fair Rx Prices Now campaign has been fighting for three reforms that could help older Americans afford their lifesaving medications: Allow Medicare to negotiate lower prices with drugmakers; place a cap on Part D out-of-pocket costs; and levy penalties on companies that raise medication prices higher than the rate of inflation.

For more information on AARP's advocacy work on prescription drug affordability and the Fair Rx Prices Now campaign, visit www.aarp.org/rx.