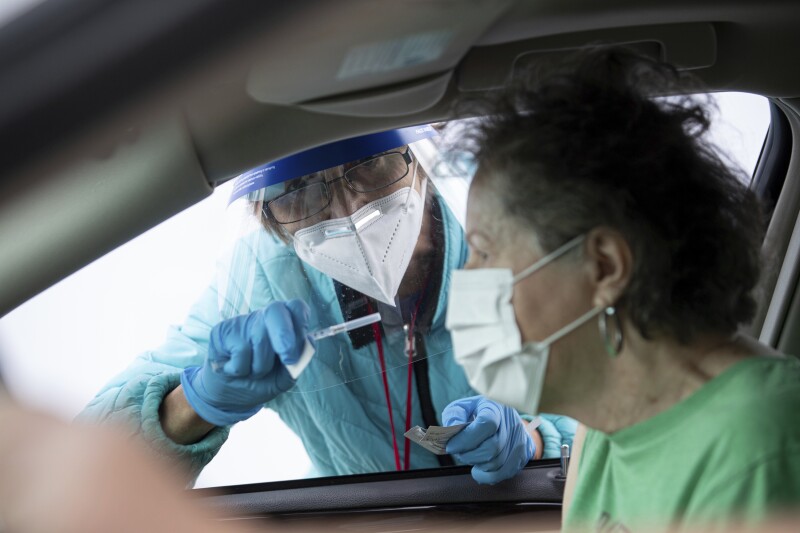 En español | Who can get vaccinated now?

All West Virginians 16 and older. The state will continue to prioritize the 65-plus population until all in that group who want to get the vaccine have done so. If you are 65 or over and still waiting on an appointment, call the state vaccine information line at 833-734-0965.
West Virginia has paused distribution of the Johnson & Johnson COVID-19 vaccine because of a type of blood clot that has developed in a small number of people after vaccination. The federal government has called the reaction "extremely rare" but "serious." If you have an appointment for the J&J vaccine, your provider or state or local health department may honor it with a different vaccine or may reach out to reschedule for a different vaccine. You can also contact your provider or the health department for more information.
Where can I get vaccinated?

Vaccination clinics at National Guard armories, schools, community centers and other sites in all 55 counties. Locations, schedules and registration information are updated weekly — go the state vaccine website and click on the "Vaccine Clinic Information" button for the current schedule. Book an appointment through the state's pre-registration system.
Pharmacies: Shots are being administered at select Fruth, Walgreens, Walmart and CVS stores. Follow the links for booking information or search the federally supported VaccineFinder tool to find pharmacies offering vaccines near you.
Check the state's vaccine website or call its COVID-19 vaccine hotline at 833-734-0965 for more information.
Veterans Affairs facilities are vaccinating veterans, spouses and veteran caregivers. Those enrolled in the VA health care system get priority; additional appointments will go to others who are eligible based on their age, health problems and other factors that increase their COVID-19 risk. Sign up with VA to get updates on vaccine availability and to be notified when you can make an appointment.
Vaccine supplies remain limited in many areas. Most vaccine sites require you to schedule an appointment online or by phone. Appointments can be hard to get, as available time slots may be booked quickly, and you might be put on a waiting list. You can sign up at multiple sites to increase your chances of getting an appointment, but once you have confirmed a slot at one site, public health officials ask that you don't schedule with any other provider so that those slots stay open for others.

AARP recommends that you talk to your doctor about the safety, effectiveness, benefits and risks of the COVID-19 vaccine. Older adults, especially those with underlying medical conditions such as diabetes and heart disease, are at increased risk for hospitalization and death from COVID-19.

What should I bring to my vaccination appointment?

Some vaccination sites ask for proof of identity or eligibility. Officials recommend that you bring a driver's license or other state-issued ID that shows your name, age and state residency information, and your health insurance card, if you have one. You will not be charged, but the vaccine provider may bill your insurer a fee for administering the vaccine.

If you are prioritized because of an underlying medical condition or based on your work, you may need a note from your doctor, a pay stub or badge, or some other form of proof. The U.S. Centers for Disease Control and Prevention (CDC) says to wear a mask at your appointment.

How are residents of nursing homes and other long-term care residents getting vaccinated?

West Virginia did not take part in the federal program to administer the COVID-19 vaccines to long-term care residents and staff through a partnership with CVS and Walgreens. Instead, the state worked with a broad array of pharmacies to operate vaccination clinics at nursing homes and assisted living communities. West Virginia completed clinics at its 214 long-term care facilities in late January.

Nursing homes and assisted living facilities are partnering with local pharmacies to offer shots to caregivers and family members of residents and staff. Contact your loved one's facility for more information.

Which vaccines require a second shot?

The COVID-19 vaccines from Pfizer and Moderna require two doses. If you get one of these, you'll need a follow-up dose to be effectively immunized. The recommended second-shot date is three weeks after a first dose of the Pfizer vaccine and four weeks for Moderna's, but the CDC says an interval of up to six weeks is acceptable.

You should get a card from your provider stating when and where to return for the second dose. The state says it will send reminders via text, emails and phone calls.

Johnson & Johnson's vaccine requires just one shot, though distribution of that vaccine has been paused. Pfizer's vaccine is authorized for people 16 and older, while the Moderna vaccine is authorized for those 18 and older.

It's not yet known how long immunity from a coronavirus vaccine lasts and whether it needs to be administered on a regular basis like a flu shot. Visit the CDC's COVID-19 vaccines page for more information.

Do I have to pay for the vaccination?

You should not have any out-of-pocket cost for getting the vaccine. AARP fought to make sure the federal government is covering the cost of the vaccine itself. Providers can recoup a fee for administering the shot, but not from consumers. They would be reimbursed by the patient's insurance company or the government (in the case of Medicare and Medicaid beneficiaries and the uninsured, for example).

Scammers are purporting to offer COVID vaccines and treatments and trying to charge for them. AARP's Fraud Watch Network is tracking the latest scams.

What should I do with my vaccine card?

You should get a small white card at your vaccination appointment with your name, birth date, name of the vaccine you received and the date it was administered. If you receive the Pfizer or Moderna vaccine, bring your card when you get your second shot.

You may need your vaccine card for certain kinds of travel or other activities, so keep it in a safe place. You can take a photo of it with your smartphone for your own records. Experts say that posting a photo of your card to social media could make you vulnerable to identity theft. If you lose your card or did not receive one, contact your vaccine provider or your local health department to get a copy.

Should I still wear a mask after getting vaccinated?

Yes. Experts are still learning about how vaccines affect the spread of COVID-19, so the CDC still recommends taking precautions while in public — including wearing masks, social distancing, and avoiding crowds and poorly ventilated spaces. Scientists are also studying the effectiveness of the vaccines against new, more contagious strains of the coronavirus.

It takes two weeks to build immunity after the single-dose shot and the second dose of the two-dose shots. After that, fully vaccinated individuals can gather indoors with other fully vaccinated people without wearing a mask or staying 6 feet apart, the CDC says. They can also gather indoors with unvaccinated people from one other household without masks, unless any of them are at a high risk for severe COVID-19.

This guide, published Dec. 24, was updated April 13 with information about the decision to pause the use of the Johnson & Johnson vaccine by West Virginia Gov. Jim Justice.

Also of Interest