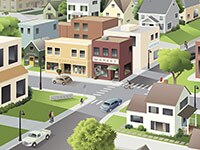 Two West Virginia towns received AARP Community Challenge grants.

The city of Charleston will improve East End Community Park by adding a splash pad, playground structures, suitable lighting and greenery.

In Masontown the Preston County Parks and Recreation Commission earned a grant to improve Decker's Creek Trailhead Park with directional signs, a picnic table, a bike rack and a bench.

Learn more at aarp.org/wv.

For a complete list of Community Challenge Grant winners, go to aarp.org/livable-communities.