It has been nearly three years since AARP West Virginia volunteers have been physically present in the hallways of the State Capitol. While away from the State Capitol due to the COVID pandemic, the concerns and welfare of 50+ West Virginians stayed top of mind among state legislators thanks to the strong virtual presence our "Red Coat" volunteers maintained with lawmakers and leaders throughout the pandemic.

As the 2023 60-Day Regular Session of the West Virginia Legislature begins in Charleston, AARP West Virginia's staff and dedicated volunteers have returned to the State Capitol and are once again maintaining an active presence under the Capitol dome.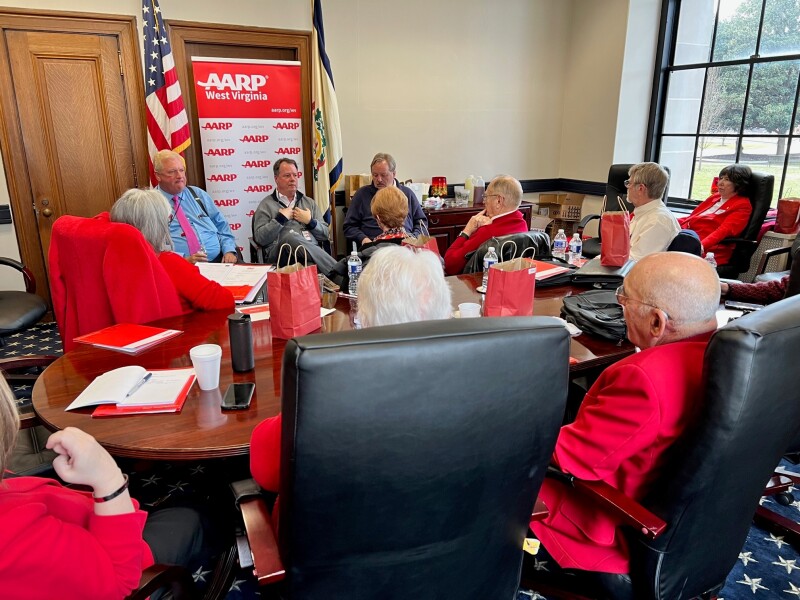 Members of the AARP West Virginia's Capitol Advocacy Team, a dedicated group of advocacy volunteers from communities across the state, returned to the West Virginia State Capitol for the start of the 2023 Regular Session of the West Virginia Legislature. During the opening days of this year's session, AARP volunteers and staff met with state elected officials, including State Auditor J.B. McCuskey, representatives from the Governor's Office, legislative leaders and staff for a comprehensive preview of the 2023 session and to discuss AARP's state advocacy priorities.
Volunteers also heard from members of the media covering the West Virginia Legislature, including Nexstar Broadcasting Group's Mark Curtis, MetroNews Radio's Brad McElhinny and WV Press Association Executive Director Don Smith, during an interactive panel discussion on legislative and policy issues that are expected to be at the forefront this session.

Our dedicated team of "Red Coats" will continue engaging with lawmakers and participating in daily legislative activity from their homes, as well as the State Capitol, in working to bring positive change for 50-plus West Virginians and their families.

Stay up to date with all the latest developments from the 2023 West Virginia Legislature by following our social media channels on Facebook and Twitter, and here on our website.

The 60-day regular session of the West Virginia Legislature concludes Saturday, March 11.