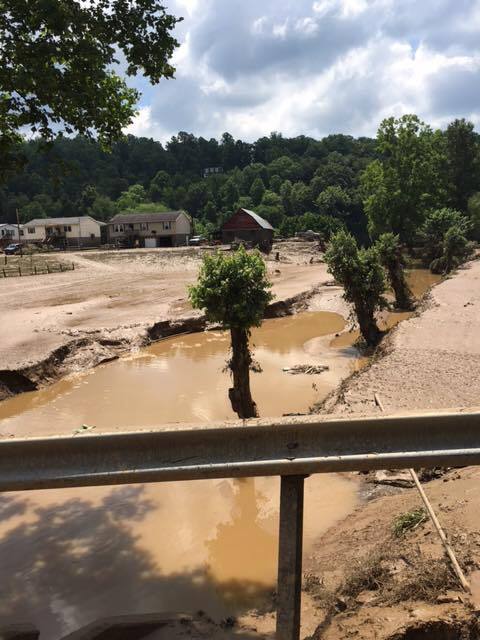 West Virginia has experienced historic flooding that has devastated communities across the Mountain State. It's heart breaking to see our friends, family and neighbors hurting and devastated. We are a proud state and know in difficult times, West Virginians come together as a family to help one another and show the nation what Mountaineers are made of.
Many of you have been asking, "What can I do?" There are many ways you can help with your time and resources. Here is some important information from AARP West Virginia. We will keep updating this page as long as we need to.
West Virginia Voluntary Organizations Active in Disaster (WV VOAD), a network of agencies which ensures services are coordinated, communications are clear, and families with unmet disaster caused needs are served, is communicating with state/local emergency management and officials to coordinate resources to West Virginians devastated by June flood events. WV VOAD is a state chapter of the National VOAD.
How Can You Help Flood Recovery in WV?
CLEANUP/RESOURCES FOR THOSE DIRECTLY AFFECTED: West Virginia Voluntary Organizations Active in Disaster (WV VOAD) has established a toll-free hotline for free help with debris removal and cleanup from local relief agencies – 1-800-451-1954. This hotline is ONLY for cleanup assistance, and not for assistance with social services, such as food, clothing, shelter, insurance or questions about FEMA registration. For access to other resources, please call 2-1-1.
For those individuals returning to homes or property that have been impacted, preparing to return home after evacuating will keep you safer while inspecting and cleaning up the damage to your home. Before traveling, ensure local officials have declared that it's safe to enter your community and that you have the supplies you will need. Click here for a suggested checklist from the American Red Cross for returning to, inspecting and cleaning your home.
The West Virginia Department of Health and Human Resources Bureau for Public Health is encouraging residents to take precautions while returning to their homes to begin clean up to reduce injury and illness.
VOLUNTEER OPPORTUNITIES: Volunteers wishing to help with flood response and recovery can register online at www.volunteerwv.org . Due to the significant damage and hazards that still exist after the waters have receeded, volunteers are asked to NOT self-deploy. Volunteer West Virginia, the State's Commission for National and Community Service has partnered with WV VOAD to match volunteers with organizations statewide to assist with response and recovery. When road hazards are clear and needs are identified, a volunteer coordinator will contact registered volunteers to schedule a volunteer shift or overnight deployment.
DONATE: Financial donations are the best way to support the effort at this time. West Virginia has a statewide disaster relief fund managed in cooperation with WV VOAD and the United Methodist Church. Donations will be used to support the disaster related needs of families through a network of voluntary agencies. More information can be found here: https://wvvoad.communityos.org/
The United Way of the Greenbrier Valley is accepting donations to aid in flood relief efforts in its service area, which includes Greenbrier, Pocahontas, and Monroe Counties.
The United Way of Central West Virginia is accepting donations for the United Way Flood Emergency Fund to aid in flood relief efforts in its service area: Kanawha, Clay, Boone, Logan and Putnam counties.
Have a service or items you would like to give to support flood relief in West Virginia? WV VOAD has an online form you can complete, and officials in touch in the days to come to coordinate how you can help.
Mountaineer Food Bank is collecting food and cleaning supplies for its Disaster Relief Drive for those affected by the recent storms. Individuals may bring non-perishable food items (canned goods and boxed dinners) and cleaning supplies (antibacterial wipes and garbage bags) to the Mountaineer Food Bank's Braxton County operations center (484 Enterprise Drive, Gassaway, WV; open 7 a.m. – 5 p.m., Monday - Friday), or call 304-364-5518 to locate a pantry near you.
HEALTH/MEDICAL: As clean-up efforts are underway across the state following significant flooding, the West Virginia Department of Health and Human Resources, Bureau for Public Health is reminding residents to check their immunization status to ensure they are protected against tetanus, in addition to protecting existing wounds from infection.
REPAIR & CHARITY SCAMS: If you are making repairs to your property, be aware of scams, unlicensed contractors and door-to-door workers; read more from AARP Fraud Watch Network expert Sid Kirchheimer on Home Repair Scams and Fradulent Charity Scams. If you suspect a scam, please report it immediately to the WV Attorney General's Consumer Protection Hotline at 1-800-368-8808.
STATE GOVERNMENT RESOURCES: The West Virginia Division of Homeland Security and Emergency Management, the state-level emergency management agency that responds to disasters in WV, can link you to additional state government resources including road and bridge closures, weather, Federal resources, and more. For the latest information, follow the state agency on Twitter @WVDHSEM.
rev. 06-26-16