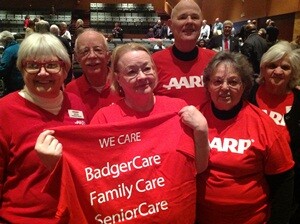 SeniorCare, BadgerCare and Family Care – three critical programs that have made Wisconsin a leader in providing affordable health care for all, reasonable prescription drug prices for those 65-plus, and in-home care for seniors – are under once again under attack in Governor Walker's proposed 2015-17 state budget.

We want you to know that AARP will spend the next several months showing Wisconsin legislators just how valuable and important all three of these programs are to so many Wisconsin seniors and others who struggle to make ends meet.

The governor's proposed budget will be debated at four public hearings across the state beginning sometime next month. AARP will pack the front row of every one of these Joint Finance Committee hearings, testifying in opposition to the governor's plans.

Here's a brief explanation about why we're so hot under the collar.

SeniorCare…is a popular and efficient program that helps about 85,000 Wisconsinites age 65-plus with the cost of life-saving prescription drugs. Walker's plan calls for alignment with Medicare Part D. In order to get SeniorCare, he is proposing that a person must apply for, and (if eligible) enroll in a Part D program. This is the same proposal we beat back in the past but we must do it again.

BadgerCare…provides a health care safety net for tens of thousands of uninsured Wisconsinites. Under the governor's proposal, childless adults in BadgerCare would have to pay a premium and be drug tested. They would also be allowed to stay on the program for a maximum of only 48 months.

These proposed changes must be approved by the federal government as part of the waiver, but we need to stop this at the Joint Finance Committee level, if at all possible. All the governor's concerns can be addressed by taking Medicaid expansion.

Family Care…saves tens of thousands of dollars per person by allowing older adults to remain living and receiving nursing-home-type care services in their homes and communities. While AARP would like to see Family Care made available in all 72 counties, we don't support the idea of forcing counties into the program, which is what the governor is proposing.

The governor wants to redesign Family Care to include both primary care and long-term care. It would be considered an insurance program and be managed by the Office of the Commissioner of Insurance, which we object to. We are concerned that this will become more of a medical model, which will reduce the personal assistance and non-medical aspects of the services provided.

This has been a very successful program. Changes to Family Care should be done cautiously. Current legislation allows for the expansion to all counties. Any of the changes need to be studied with stakeholder input. The budget should only contain enabling legislation and funding for such a study.

The governor also proposes to eliminate the IRIS ("I Respect I Select) program, which has always been a companion program to Family Care that gives seniors the option of controlling the design of their own home health care plan.

TAKE ACTION – We encourage you to call your state legislators and tell them to leave SeniorCare, BadgerCare and Family Care alone. Please spread the word. If you are unsure which state legislators represent you, find out here.