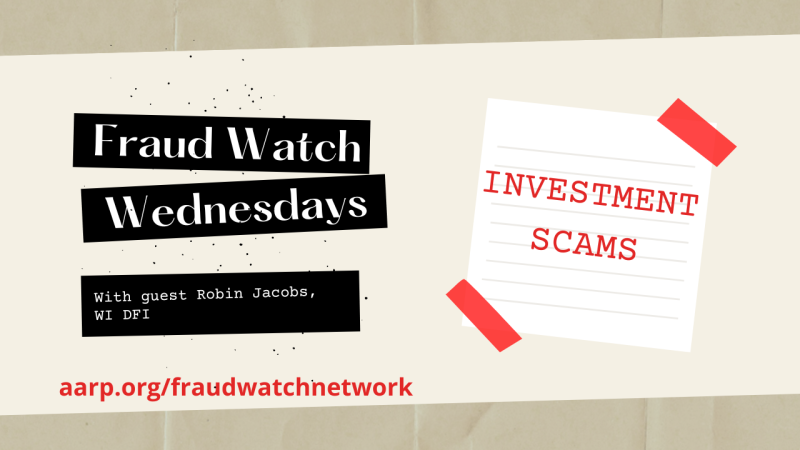 "If it sounds too good to be true, it probably is" - that's some of the best advice you can follow when it comes to investment scams. But how do these scams work? How can investors know what they're being offered is legitimate? What resources are available?

Robin Jacobs from the Department of Financial Institutions (DFI) sat down with us to discuss what DFI does, some common investment scams, and how you can protect yourself from fraud. Watch the recording below and be sure to check out the resources provided.



The recording begins part way through Robin's explanation of what DFI does, but here is a quick guide:

The Department of Financial Institutions is committed to ensuring the safety and soundness of Wisconsin financial institutions, protecting the investing public, and enhancing the viability and accessibility of the state's business record-keeping system. They do this through financial education and regulation.

The Department of Financial Institutions:

Regulates state-chartered banks, savings and loan associations, savings banks and credit unions, as well as various operations of the securities industry.
Examines and files charters and other documents of businesses and organizations
Registers and regulates the mortgage banking industry and other financial service providers such as investment brokers.
Oversees Uniform Commercial Code filings, administers the Wisconsin Consumer Act and registers merchants who extend credit.
Educates the public through outreach engagements
If you are considering an investment opportunity, take a moment to review some excellent information:

To report your concerns about an incident:

This discussion was part of our Fraud Watch Wednesdays. Keep up with our Fraud Watch Wednesdays webinar series on our website.

The AARP Fraud Watch Network is a free resource for people of all ages, whether they're an AARP member or not. Our website (https://www.aarp.org/fraudwatchnetwork) has:

Tips and tricks for avoiding all kinds of scams
Articles about currently trending scams
Our podcast, The Perfect Scam
Watchdog Alerts, bi-weekly emails that you can sign up for to stay on top of scams
You can also call the Fraud Watch Network helpline toll-free to talk with a trained volunteer about your experience with a scam and to get next steps in your action plan to protect yourself and your information.
AARP Fraud Watch Network Helpline
Monday - Friday, 7:00 am - 7:00 pm CT
877-908-3360

Recently, AARP also launched free, online support groups for those who have been victimized by con artists. You can learn more about the support groups here.

If you would like to request a presentation for your community group, please reach out to us at wistate@aarp.org.

Keep up with our Fraud Watch Wednesdays webinar series on our website.