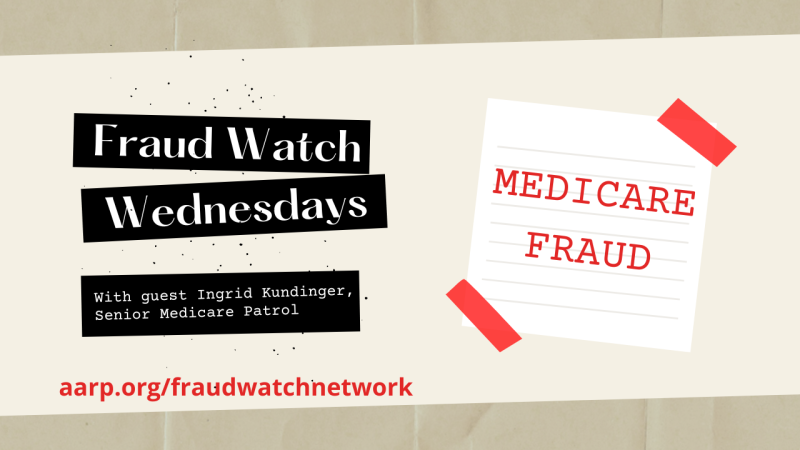 Medicare-related scams amount to a whopping $60 billion dollars each year, and can result in issues for beneficiaries. Ingrid Kundinger of the Senior Medicare Patrol sat down with us to talk about all the great resources SMP offers, how you can spot Medicare fraud, and tips for protecting yourself and your information. Watch the recording of the webinar below.



The recording unfortunately did not include Ingrid's overview of Senior Medicare Patrol, but here's a brief outline of some of their services:

PREVENTION
SMP of Wisconsin has a robust outreach program, including participation at resource fairs and providing informational presentations to various groups in the community. They are on Facebook, and they have a newsletter you can sign up for. All these offerings allow you to stay up to date and informed.
DETECTION
Arm yourself in the fight against Medicare fraud with SMP's My Health Tracker. Keep track of appointments and services you receive, and then compare them against the statements or EOBs you receive from Medicare. Look into any discrepancies you notice.
REPORTING
It is critical that we report Medicare fraud. Connect with the Senior Medicare Patrol to figure out your next steps, and they'll make sure information gets passed on to the proper authorities for further investigation.
You can find the Senior Medicare Patrol of Wisconsin the following places:

Online at https://www.smpwi.org/
On their toll-free, confidential helpline at (888) 818-2611
By email at smp-wi@gwaar.org
This discussion was part of our Fraud Watch Wednesdays. Keep up with our Fraud Watch Wednesdays webinar series on our website..

The AARP Fraud Watch Network is a free resource for people of all ages, whether they're an AARP member or not. Our website (https://www.aarp.org/fraudwatchnetwork) has:

Tips and tricks for avoiding all kinds of scams
Articles about currently trending scams
Our podcast, The Perfect Scam
Watchdog Alerts, bi-weekly emails that you can sign up for to stay on top of scams
You can also call the Fraud Watch Network helpline toll-free to talk with a trained volunteer about your experience with a scam and to get next steps in your action plan to protect yourself and your information.
AARP Fraud Watch Network Helpline
Monday - Friday, 7:00 am - 7:00 pm CT
877-908-3360

Recently, AARP also launched free, online support groups for those who have been victimized by con artists. You can learn more about the support groups here.

If you would like to request a presentation for your community group, please reach out to us at wistate@aarp.org.

Keep up with our Fraud Watch Wednesdays webinar series on our website.