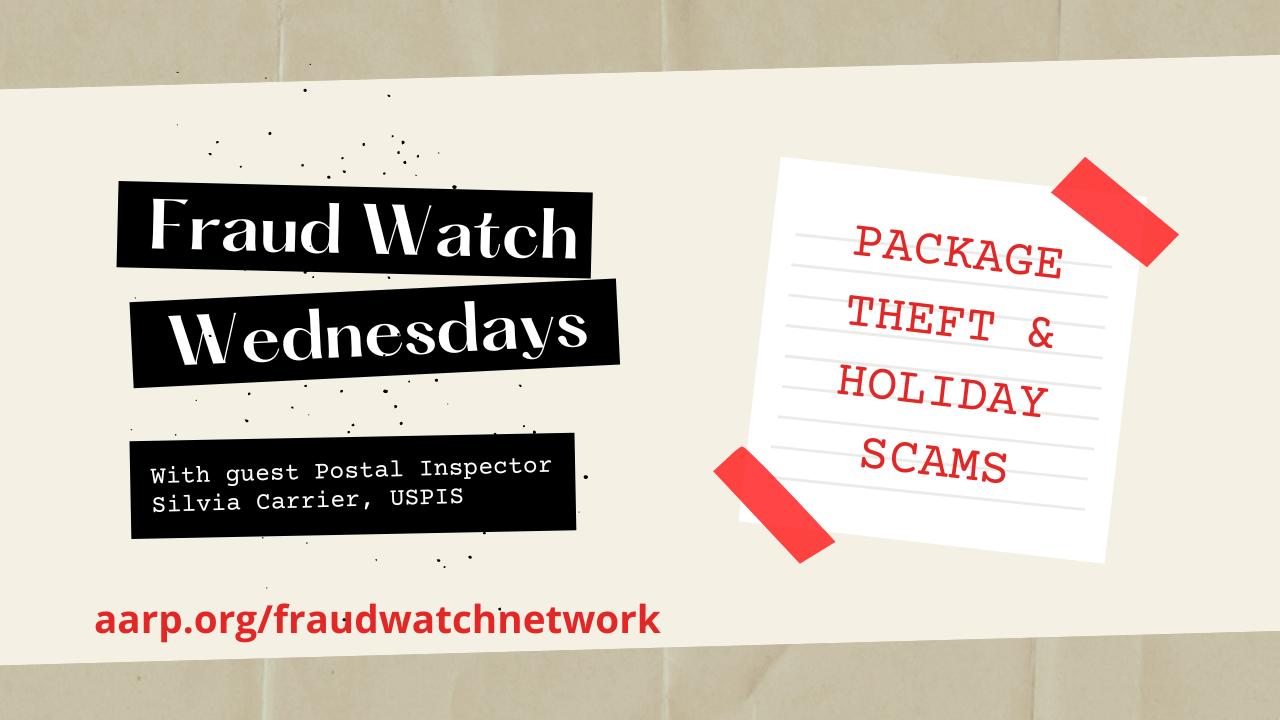 With the holidays right around the corner, we're all getting more packages delivered to our homes, and we're looking for ways to give back to those in need. Unfortunately, scammers are also looking for ways to steal your information, money, and deliveries. Postal Inspector Silvia Carrier from the United States Postal Inspection Service (UPSIS) joined us to talk about how we can protect ourselves.

You can watch the conversation, part of our Fraud Watch Wednesdays webinar series, below.



The Postal Inspection Service enforces over 200 federal statutes related to crimes that involve the postal system, its employees, and its customers. This covers a lot of different kinds of scams, including package theft, romance scams, and charity scams. You can learn more about all they do on their website, www.uspis.gov. Be sure to check out these resources as well:

This discussion was part of our Fraud Watch Wednesdays webinar series - keep up with the webinar series on our website.

The AARP Fraud Watch Network™ is a free resource for people of all ages, whether they're an AARP member or not. Our website (https://www.aarp.org/fraudwatchnetwork) has:

Tips and tricks for avoiding all kinds of scams
Articles about currently trending scams
Our podcast, The Perfect Scam
Watchdog Alerts, bi-weekly emails that you can sign up for to stay on top of scams
For package scams, be sure to check out this specific article from AARP for helpful tips.

You can also call the Fraud Watch Network™ helpline toll-free to talk with a trained volunteer about your experience with a scam and to get next steps in your action plan to protect yourself and your information.

AARP Fraud Watch Network™ Helpline
Monday - Friday, 7:00 am - 7:00 pm CT
877-908-3360

Recently, AARP also launched free, online support groups for those who have been victimized by con artists. You can learn more about the support groups here.

If you would like to request a presentation for your community group, please reach out to us at wistate@aarp.org.

Keep up with our Fraud Watch Wednesdays webinar series on our website.