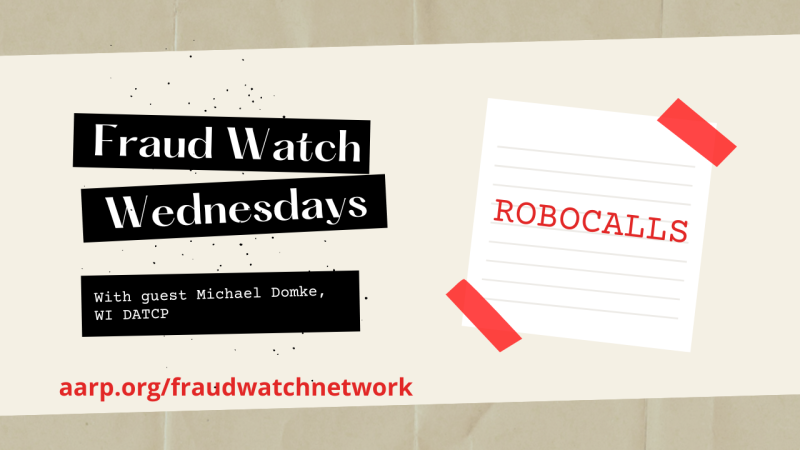 Robocalls - we all get them and we all wish we didn't get them. Michael Domke from the Consumer Protection Bureau at the Wisconsin Department of Agriculture, Trade, and Consumer Protection (DATCP) joined us to talk about how these robocalls happen and how we can avoid them.

You can watch the conversation, part of our Fraud Watch Wednesdays webinar series, below.



DATCP offers many services and resources, a lot of which you can learn about from our previous conversation with Michelle Reinen here. This month, we focused in specifically on robocalls, and readers will find these DATCP resources particularly useful when it comes to that topic:

Be sure to keep up with the latest scams and consumer protection news by following DATCP on Facebook and Twitter.

This discussion was part of our Fraud Watch Wednesdays webinar series - keep up with the webinar series on our website.

The AARP Fraud Watch Network™ is a free resource for people of all ages, whether they're an AARP member or not. Our website (https://www.aarp.org/fraudwatchnetwork) has:

Tips and tricks for avoiding all kinds of scams
Articles about currently trending scams
Our podcast, The Perfect Scam
Watchdog Alerts, bi-weekly emails that you can sign up for to stay on top of scams
You can also call the Fraud Watch Network™ helpline toll-free to talk with a trained volunteer about your experience with a scam and to get next steps in your action plan to protect yourself and your information.

AARP Fraud Watch Network™ Helpline
Monday - Friday, 7:00 am - 7:00 pm CT
877-908-3360

Recently, AARP also launched free, online support groups for those who have been victimized by con artists. You can learn more about the support groups here.

If you would like to request a presentation for your community group, please reach out to us at wistate@aarp.org.

Keep up with our Fraud Watch Wednesdays webinar series on our website.