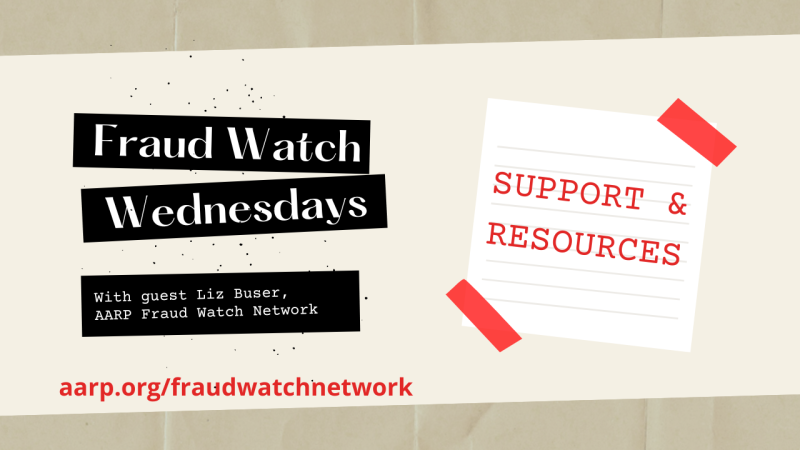 "Even just helping one other person feel like they are not alone - it all makes a difference, and this is the most rewarding job that I have ever had." That's what Liz Buser said about her work with the recently launched support groups offered by the AARP Fraud Watch Network™.

Liz sat down with us to talk about what the AARP Fraud Watch Network™ does, including offering tip sheets about specific types of fraud, publishing articles about trending scams, and the ReST support groups. You can watch the conversation, part of our Fraud Watch Wednesdays webinar series, below.



The AARP Fraud Watch Network™ is a free resource for people of all ages, whether they're an AARP member or not. The Fraud Watch Network™ helps you:

FIND SUPPORT
If you've been targeted by scams or fraud, you are not alone. Our trained fraud specialists provide support and guidance on what to do next and how to avoid scams in the future.

Call the AARP Fraud Helpline at 877-908-3360


Speak with a trained volunteer to get tips to avoid scams, actions you should take if you've been the victim of a scam, and referrals to agencies that can investigate and mediate issues.
Helpline hours: Monday - Friday, 7:00 am - 7:00 pm CT

Talk about your experience in our free, confidential, online support groups

STAY INFORMED
Knowledge gives you power over scams. The AARP Fraud Watch Network™ equips you with reliable, up-to-date insights, alerts and fraud prevention resources to help you spot and avoid scams and protect your loved ones. Visit aarp.org/fraudwatchnetwork to:

Find tip sheets on a variety of topics from Cryptocurrency schemes to robocalls to Social Security imposter scams.
Read articles on trending scams that are in the news.
Sign up for bi-weekly watchdog alerts sent directly to your inbox (or text FWN to 50757 to receive text alerts)
Learn directly from fraud experts at one of our webinars, tele-town halls or live events.
Hear stories of real scams on our award-winning podcast, The Perfect Scam. Explore fraud from the viewpoint of victims, law enforcement and the con artists themselves.
See or report scams in your area with our Scam Tracking Map.
HAVE A VOICE
AARP fights for consumers by advocating for laws and regulations to stop scams and shut down fraud attempts. We also provide a voice to consumer concerns and help shape the public discussion on fraud.

Connect with the AARP Fraud Watch Network™:

Online

On Social Media

By phone


Fraud Helpline, M-F, 7a - 7p CT: 877-908-3360

By email

This discussion was part of Fraud Watch Wednesdays - keep up with the webinar series on our webpage.

If you would like to request a presentation for your community group, please reach out to us at wistate@aarp.org.