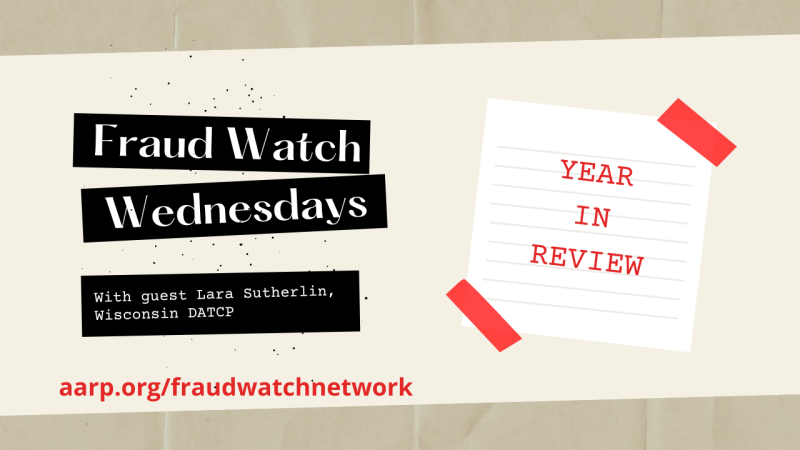 Some scams come and go, and some scams seem to stick around. Lara Sutherlin from the Consumer Protection Bureau at the Wisconsin Department of Agriculture, Trade, and Consumer Protection (DATCP) joined us to talk about the biggest scams of 2022 and what we need to be on the look out for in the coming weeks.

You can watch the conversation, part of our Fraud Watch Wednesdays webinar series, below.



DATCP offers many services and resources, including:

DATCP.WI.GOV
Visit DATCP's website to file a complaint or access numerous factsheets
CONSUMER PROTECTION HOTLINE
If you want to report a scam or have questions about your next steps if you suspect you may have been the target of scam, you can call the DATCP hotline at 1-800-422-7128. If you prefer email, send them a message at datcphotline@wi.gov.
CONSUMER GUIDE
The Consumer Guide contains more than 50 pages of information, covering topics from the "grandparents scam" to landlord/tenant laws to filing a complaint with DATCP. Check out their website to learn more and download a copy.
Be sure to keep up with the latest scams and consumer protection news by following DATCP on Facebook and Twitter.

Looking back on 2022, Lara indicated the following scams were the most common this year:

Publisher's Clearing House Scam
Amazon Imposters
Lottery Scam
Government Imposter scams relating to student loans, Medicare enrollment, fraudulent unemployment filings
Looking ahead to 2023, Lara reminded viewers:

Look into charities using a website like charitynavigator.org before giving any money
Be mindful when shopping online - research retailers, don't use public Wi-Fi to complete purchases, and keep your computers anti-virus up to date
Gift cards can be tampered with - closely inspect your gift card before purchasing and loading funds. If you buy online, purchase from a trusted source. Know that gift card bots allow scammers to drain funds from gift cards once they have been activated - keep your receipts, monitor your balance, and spend the money sooner rather than later.
It is critical that we continue to talk about these schemes and report them to consumer protection agencies like DATCP. Education, outreach, and open communication are our best prevention strategies when it comes to fraud.

This discussion was part of our Fraud Watch Wednesdays webinar series - check out the rest of the series on our website.

The AARP Fraud Watch Network™ is a free resource for people of all ages, whether they're an AARP member or not. Our website (https://www.aarp.org/fraudwatchnetwork) has:

Tips and tricks for avoiding all kinds of scams
Articles about currently trending scams
Our podcast, The Perfect Scam
Watchdog Alerts, bi-weekly emails that you can sign up for to stay on top of scams
You can also call the Fraud Watch Network™ helpline toll-free to talk with a trained volunteer about your experience with a scam and to get next steps in your action plan to protect yourself and your information.

AARP Fraud Watch Network™ Helpline
Monday - Friday, 7:00 am - 7:00 pm CT
877-908-3360

Recently, AARP also launched free, online support groups for those who have been victimized by con artists. You can learn more about the support groups here.

If you would like to request a presentation for your community group, please reach out to us at wistate@aarp.org.