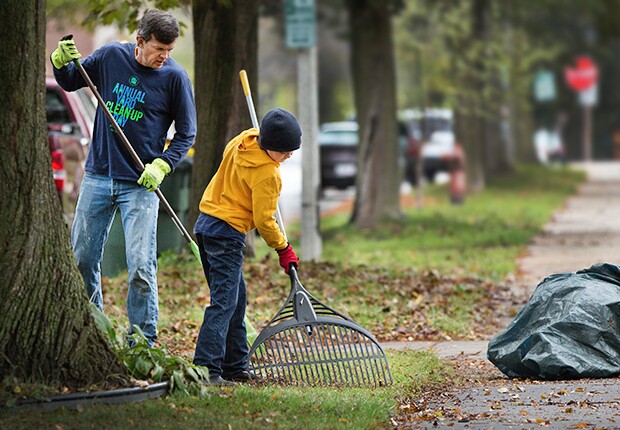 Regardless of age, gender, ethnicity, or income, we can all agree that improvements to our communities benefit everyone. And we all want the same things: safe, accessible and affordable places to live for you and your family, access to the shops, businesses and community services that you interact with every day, and to live near friends, family and people you can rely on.
People and families are better off when communities prepare for the fact that people are living longer than ever before. Wisconsin and the U.S. is in the midst of a significant demographic shift, with the country's population aging quickly and dramatically over the next dozen years.
By partnering with local leaders and policy makers nationwide, AARP is committed to helping create communities with a better civic, economic and social life for all residents. We want communities that work for people of all ages.
Communities are better when everyone is engaged. We all win when our streets are safer, when workers have easy access to transportation and services, and when our families feel safe in their homes and communities.
That's why AARP is collaborating with community leaders and residents in the Milwaukee area and all across Wisconsin to look for all the different ways we can work together to learn the needs, goals and challenges they face – and the address the roadblocks in place to take positive action.
From babies to baby boomers and beyond, we all benefit when the places we live are designed for the rest of our lives. Consider…
Economic Benefits
We all want the places where we live to be good for people and good for business. Therefore AARP collaborates with local officials to make improvements that enhance the quality of life of residents, the economic prospects of businesses and the bottom lines of local governments. Engaged communities often save money so that taxpayers can save more for the things that matter most.
Transportation
We all deserve to be able to safely cross the street. AARP collaborates with communities and neighborhoods to learn how to make streets safer for older adults, people walking to work, parents pushing strollers, and children riding bicycles to school. Walkable communities help connect people safely with the places they want to go so that residents of all ages can remain independent, mobile and engaged.
Housing
AARP understands that communities that work for all residents include secure and affordable housing. Therefore we collaborate with local officials on policies that support safe homes for everyone. Different types of housing help ensure that there is a place for everyone so that residents who choose to do so can remain in the comfort of the community in which they live.
Community Engagement
Great communities thrive when people come together and start listening to one another. AARP partners with local leaders to ask the questions that really matter. By listening to people's concerns and learning what individual neighborhoods really need, policy makers can make real changes that create real results. It's important for everyone to get involved, so local leaders can find common sense solutions that improve communities and change lives.
To find out all that AARP is doing in the Milwaukee area and around the state to help people live their best lives, check back to www.aarp.org/wi for details of events such as Home Fit workshops, which help folks make the modifications necessary to continue living as long as possible in your home. We also offer local theater discounts, Free Coffee Friday get-togethers, free "Movies for Grownups" events, free in-person programs/workshops, and much more!
For more information about AARP's Livable Communities efforts and you can get engaged, visit www.aarp.org/livable