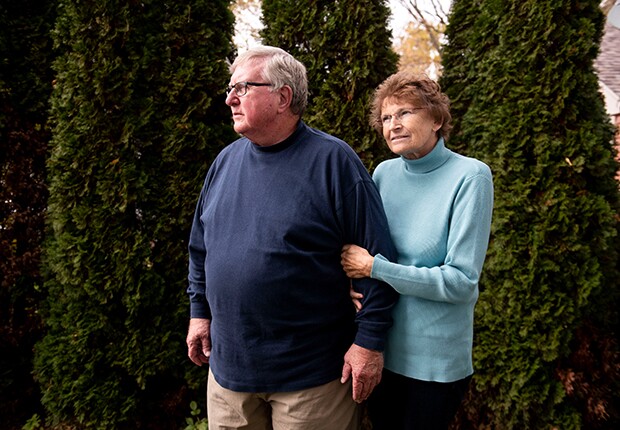 By Joanne Cleaver
Caregiving responsibilities have been growing for Jim and Dianne Senderhauf, of Oshkosh. For years the couple has been helping an older relative with mental disabilities navigate his daily life.
The Senderhaufs manage his money, transport him to doctors' appointments and remain on call.
In the past year, the Senderhaufs, who are 75 and 71, respectively, have taken on a similar role for two additional older relatives, ages 83 and 85.
"It's a lot of time," said Jim Senderhauf, a retired manufacturing manager. "You learn as you go, but it's a difficult process."
The time, attention and money required to be a caregiver can be a substantial challenge for families, especially when loved ones wish to remain in their homes.
AARP Wisconsin is working with state policy makers to make home caregiving more affordable for middle-income families.
An estimated 578,000 Wisconsin family caregivers provide $7 billion worth of uncompensated care annually.
During the last legislative session, state Sen. Patrick Testin (R-Stevens Point) proposed a family caregiver tax credit, which would help offset some of the estimated $7,000 those households spend annually on direct caregiving expenses.
While other lawmakers were intrigued, said Testin, they were taken aback by the cost—$179 million annually, according to the Wisconsin Department of Revenue. The proposal subsequently failed.
Testin intends to reintroduce the bill when the Legislature convenes in 2019.
"I'm optimistic," he said. "My hope is to get this to the governor's office."
The bill still needs language to clarify what types of equipment, home modifications and services would qualify for the credit, explained Helen Marks Dicks, AARP Wisconsin's state issues advocacy director.
The expense of caregiving
Families are often unprepared for the costs of caregiving. A study conducted by the Nationwide Retirement Institute found that 80 percent of retirees discovered that health problems emerged five years earlier than they had expected.
And families are often blindsided when they must adapt a home for a loved one's recovery, said Jeff McCabe, 64, support services director at Brewster Village, a nursing facility in Appleton.
"You have to think of the 24-hour care cycle," said McCabe, who has been working with caregiving families for 40 years.
Caregivers often find themselves paying for extra services to cover gaps in the daily caregiving schedule, he noted.
AARP Wisconsin will also be urging state lawmakers to pass the CARE Act, which would require hospitals to provide medical instructions to caregivers before a loved one is released.
By stepping up to care for their vulnerable relatives, the Senderhaufs have borne the out-of-pocket expenses. Yet their largely unrecognized and wholly unpaid work has economic value to all involved.
"If caregivers didn't provide these services, it could be a financial disaster for those we're caretaking. Then the government would have to pick up the tab," Senderhauf said. "A tax break for caregivers is a step in the right direction."
Joanne Cleaver is a Wisconsin writer living in Michigan.