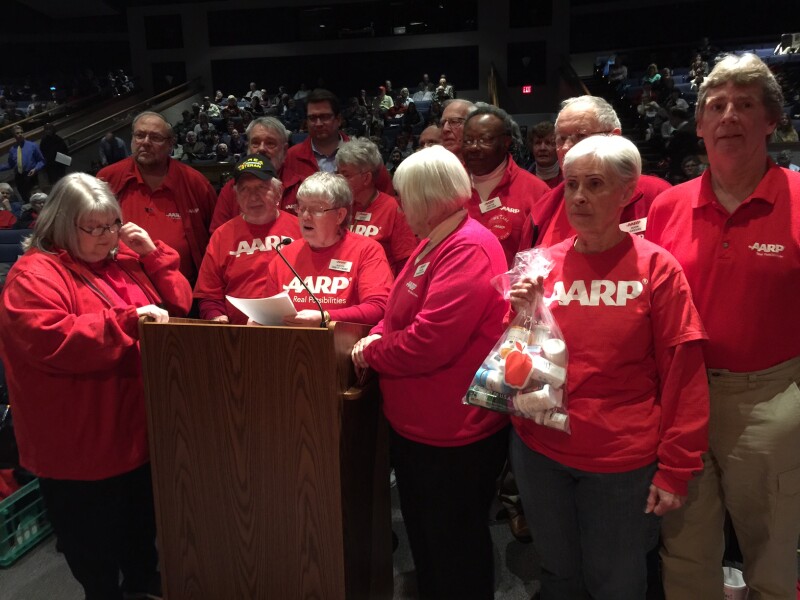 Our red-shirted AARP Wisconsin volunteer advocates made a huge impact at all four of the Joint Finance Committee's state budget hearings across state last month. Our team was front and center, two rows deep, and among the first to testify at all four hearings.

Our constant drumbeat of AARP member and volunteer emails, calls and visits with legislators since those hearings could result in changes to the governor's proposed state budget that we've been calling for all along.

We are asking legislators to remove the Governor's proposed changes to SeniorCare and Family Care from the budget, and leave these popular and cost-efficient programs exactly the way they are. We are also urging the state to include Medicaid Expansion and the Wisconsin Private Secure Retirement Act in the budget.

Here's where we're currently at on each of these issues, and how you can help us move them forward…

SeniorCare – The program helps about 85,000 Wisconsinites age 65-plus with prescription drug costs. Walker's plan calls for aligning DHS seniorcare fact sheet with Medicare Part D, which would result in much higher costs for participants. We want these changes removed from the budget so that Wisconsin seniors can continue to save on the cost of their prescription drugs.

The governor's plan appears to be dead, but we are still concerned about possible changes that legislators could make to the program, such as increase premiums, deductibles or enrollment fees. We also don't want to see the program capped or limited to only those who are currently enrolled. We will continue to push lawmakers to keep SeniorCare exactly as it is.

TAKE ACTION: Tell your legislators to leave SeniorCare alone!

Family Care – The program allows older adults to remain living and receiving nursing-home-type care services in their homes and communities instead of costly institutions. The governor wants to dismantle Family Care by turning the program's management over to for-profit insurance companies. He is also proposing to eliminate the IRIS (Include, Respect, I Self Direct) program as a choice and to privatize all Aging and Disability Resource Centers, which we also vehemently oppose.

Family Care, IRIS and the ADRCs are operating efficiently and should continue on as is. If any changes are made, they should be done cautiously and studied with stakeholder input. We were joined by our friends in the disability community and counties across the state in testifying in support of these programs. We're optimistic our voices are getting through to legislators, and we'll keep the drumbeat going.

TAKE ACTION: Tell your legislators to leave changes to Family Care out of the state budget!

BadgerCare – In the last budget, childless adults up to 100% of the federal poverty level gained coverage under BadgerCare. This budget proposes major changes to that program, adding premiums and limiting the time a person can be on the program. The changes are an admission that that plan failed to meet its objectives. The best way to provide health care coverage for low-income childless adults is by accepting Medicaid expansion. Accepting this expansion would cover more people for less state money.

While we advocate for full Medicaid expansion, we are waiting for state revenue projections to be released in early May. Once we know the state's fiscal condition, we will begin our push to accept this federal money.

Work and Save – The Wisconsin Private Secure Retirement Act would create a study group to explore the creation of a system similar to the Wisconsin Retirement System for workers in the private sector who do not have access to a retirement saving plan at their work place. Helping people prepare for a financial secure retirement is one of our top priorities. We would like this legislation included in the state budget.

We are still educating legislators on this legislation (which has been introduced as a separate bill in both the Senate and Assembly) and explaining why we believe it should be included in the budget.

So what's next?

Legislators are currently digesting thousands of comments about the budget from resident across the state. Later in April the Joint Finance Committee will begin voting on individual provisions of the budget.

It's very clear that we are getting their attention. Our voices are being heard, we are gaining more and more credibility on these issues, and there is incredible strength in numbers. That's why we still need your help.

Please contact your state legislators and tell them how important these issues, including SeniorCare and Family Care, are for all Wisconsinites as we age.