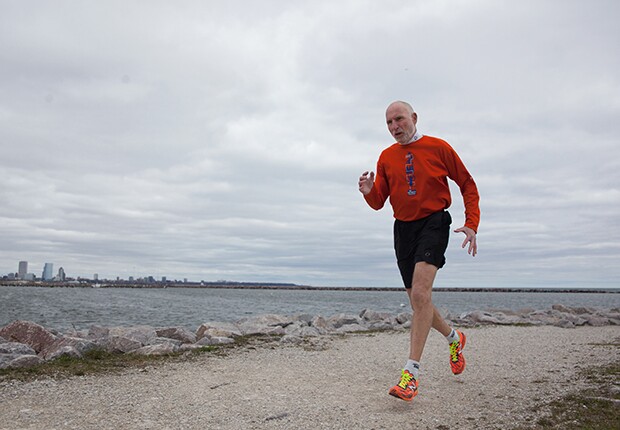 By Robert Hodder and Eugene Kane

David Hoffman doesn't let his age or the unpredictable Wisconsin weather keep him from his regular run.

But he does want to complete his exercise without getting "run over by somebody" in his Milwaukee neighborhood of Bay View.

That's why Hoffman, 82, is one of the leading volunteers—he won the AARP 2015 Andrus Award in Wisconsin, named after the association's founder, Ethel Percy Andrus—and advocates for "age-friendly communities" in Wisconsin. The initiative seeks to improve the housing, transportation and pedestrian options of residents to help them stay safe and comfortable in their homes and neighborhoods.

Wisconsin community leaders are recognizing they could do more to ensure that local housing and public spaces accommodate an increasingly aging population.

In March, the Village of Shorewood (population roughly 13,300) became the first Wisconsin jurisdiction to join the AARP Network of Age-Friendly Communities committed to improving livability for residents of all ages.

Sue Kelley, a consultant who leads the Shorewood Connects age-friendly project, said being part of the network makes it easier to "look at the features of other communities around the world and see if their ideas and strategies make sense for the Village of Shorewood."

The network, an affiliate of the World Health Organization's Global Network for Age-friendly Cities and Communities, emphasizes the often-overlooked connections between residents' welfare and the physical environment.

For example, it's easier for people to age in their homes when they can safely get to where they need to go and have housing features that accommodate them.

Listening series elicits ideas
Public examples include improved pedestrian crosswalks and public transportation options. Private examples include wider doorways to accommodate wheelchairs, and grab bars in bathrooms.

"Our village board has been extremely supportive of this initiative" Kelley said, noting that it has provided funding for the planning work that is unearthing lots of ideas about how to enhance Shorewood.

AARP has been instrumental in this work, said Mariann Muzzi, AARP Wisconsin community outreach director. Staff and volunteers have been holding a series of Free Coffee Fridays during much of the year at select coffeehouses in Milwaukee County to elicit ideas and engage residents in the initiative.

"This is about taking a big-picture look" at the community, Muzzi said. "It's about finding out what's good for one group may be good for everyone."

In Shorewood, project leaders have developed a senior-friendly business designation. It recognizes such low-tech solutions as comfortable benches inside stores so older residents can rest when shopping. Participating businesses are identified by window stickers.

The village's community services have been tweaked to help with major yard cleanup chores twice a year and improve safety conditions at crosswalks.

"The population is getting older and lots of people don't simply want retirement, they want a livable community" noted Hoffman. "The demographics have changed over the last 20 years, but there are a lot of nice things about this area that make it a nice place to live."

AARP is committed to enhancing the quality of life for all in Wisconsin. AARP's Livability Index makes it easy to see how your community stacks up against others on a wide range of measures, which are then combined in a single index score.

"We have families with young children who want to live in a place that takes care of people of all ages," Kelley said. "That's part of what makes a community." These families demonstrate that almost everything that benefits older residents helps younger generations as well, she added.

Robert Hodder is a writer living in Northern Virginia. Eugene Kane is a writer living in Milwaukee.