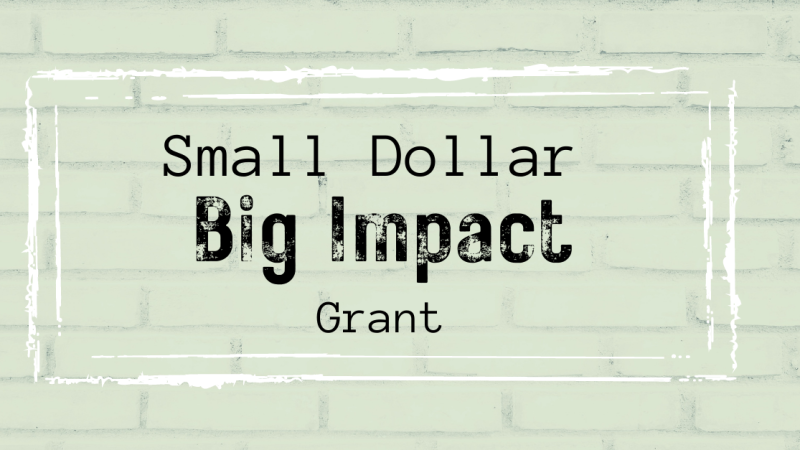 Current Deadline: October 18th, 2022
About the Small Dollar, Big Impact Grant

We are excited to be accepting applications from across Wisconsin for "Small Dollar, Big Impact" grants, which will be awarded to new projects that are designed to improve a community and make it a better place for everyone to live, work, and play as they age. AARP Wisconsin may award a grant of up to $1,000 to at least one eligible applicant. The grant amount could be a portion of or the total cost for the project. All projects must be completed within 60 days from winner announcement. if your project includes public engagement, please ensure that the activities follow all local/state guidelines.

Small Dollar, Big Impact grants are exactly what the name describes – simple, short-term, low-cost solutions that could have remarkable impacts on the shaping of neighborhoods and cities. There are so many great ideas and proposals for making life better in communities across Wisconsin. We know how impactful $1,000 can be. This is our way of extending some seed money to get these projects off the ground.

Here is Associate State Director for Community Outreach, Darrin Wasniewski, with a quick breakdown of the Small Dollar, Big impact Grant:



Does it sound like your project is a good fit for the grant? Great! Apply today!

Applications for the current cycle are due by October 18th.

AARP will prioritize projects that aim to improve one or more of the following "8 Domains of Livability," which include:

Outdoor Spaces and Public Places
Transportation
Housing
Social Participation
Respect and Social Inclusion
Work and Civic Engagement
Communication and Information
Community and Health Services
The "Small Dollar, Big Impact" grant program is open to some nonprofits and government entities in Wisconsin. Other types of organizations will be considered on a case-by-case basis. Full eligibility is listed below.

Wondering what kinds of projects we're looking for? Check out the video below for inspiration, or take a look our Past Recipients section to see what projects we've funded in previously.




Eligibility

The program is open to the following types of entities:

501(C)(3), 501(C)(4) and 501(c)(6) nonprofits
Government entities
Other types of organizations will be considered on a case-by-case basis
Must be located within the State of Wisconsin
The following projects are NOT eligible for funding:

Partisan, political or election-related activities
Planning activities and assessments and surveys of communities
Publication of books or reports
Acquisition of land and/or buildings
Sponsorships of other organizations' events or activities
Research and development for a nonprofit endeavor
Research and development for a for-profit endeavor
The promotion of a for-profit entity and/or its products and services
Selection Criteria

Applications will be reviewed by a small team of community focused stakeholders who have experience in neighborhood and city development. Reviewers will assess each project based on the following factors:

WOWNESS: does it make us say, "holy coleslaw-on-a-sandwich, that's awesome and creative!"?
USEFULNESS: will this grant make a real difference in getting the project off the ground in the near future?
NICENESS: would the idea make people happy or help people?
BIGNESS/ LOCAL IMPACT: does this project have the potential to reach many people in the community? Is it scalable?
Upcoming Deadlines
2022
GRANT #10
o Deadline October 18th
o Winners announced November 8th

GRANT #11
o Deadline November 10th
o Winners announced December 1st

GRANT #12
o Deadline December 6th
o Winners announced December 20th

Past Recipients

GRANT #1
RHINELANDER - Heaters for Heal Creek Dog Dash & Winter Festival
On Feb. 26 and 27, Rhinelander will host what appears to be the first sanctioned dog sled race in its history, according to Niina Baum, a board member of the Wisconsin Trailblazers Sled Dog Club, a nonprofit organization based in Phelps that helps put on dogsled races and promotes the ethical treatment of dogs.

Competitors from all over the country will bring their dog teams to Rhinelander's Northwood Golf Course for the Heal Creek Dog Dash & Winter Fest. Activities at the event will include snowshoeing, downhill sledding, bonfires, live music, and watching dogsled and skijor races.

Since the festival is primarily an outdoor event, the group will use the $1,000 AARP grant to purchase four propane heaters for participants and spectators to enjoy warming areas at various locations. After the event, the heaters will be used for other outdoor functions, including a second annual winter fest.

>>>READ MORE.

GRANT #2
GREENDALE - Intergenerational Crafting Sessions
The Village of Greendale Health Department will be hosting three crafting sessions, and they plan to use the funds from the Small Dollar, Big Impact Grant to purchase craft materials, supplies, snacks, and use of event facilities.

Two of these events will be held a the Field Workshop in Greendale, with the third taking place at the Harbour Village senior living facility, where residents will have the opportunity to invite a grandchild to join them and work together on the craft projects.

"These events are targeted at grandparents and their grandchildren and will involve them working side-by-side on creative projects of their choice as a way to participate in fun and interactive bonding activities," said Shawne Johnson, Public Health Manager for the Greendale Health Department. Hot cocoa and cookies will be provided along with conversation starter cards on the snack table.

The Greendale Health Department has a focus on promoting wellness and improving the health of all community members. Its values include health equity, partnerships, stewardship, and unity.

The dates for all three crafting events will soon be posted on Greendale's health department website and Facebook page once they are available.

>>>READ MORE.

GRANT #3
REESEVILLE - LIBRARY TO GO KITS
The Reeseville Public Library will create 10 "Naturalist To Go Kits" for families to check out from the library and utilize in various nature/science settings.

The kits will center around the themes of insects, rocks, astronomy, trees and weather. Each kit will include three books, a clipboard, a pack of colored pencils, a No. 2 pencil, a nature journal with blank paper, coloring pages, a laminated information set (seven pages on a metal ring), and items specific to the science such as a set of junior binoculars, compass, plastic ruler or magnifying glass.

The items will all be packed into canvas backpacks, which will be available for checkout at the library. Families can come in and pick out a theme to learn more about, then take the kit out into nature for their own adventure.

>>>READ MORE.

GRANT #4
PESHTIGO - CARDIO DRUMMING
The City of Peshtigo Park and Recreation Department will be using the SDBI grant to purchase equipment to offer a workout called "Cardio Drumming for Exercise".

Cardio Drumming for Exercise provides a fun and healthy form of cardio workout. The exercise can be performed while standing or sitting, enabling participants of all ages to engage in a fun workout. Each drumming class will be designed to a specific age group using music, rhythm techniques and various levels of drumming.

>>>READ MORE.

GRANT #5
PRAIRIE DU CHIEN - NEW WEEKLY FARMER'S MARKET
the Prairie du Chien Main Street Program will use the funds to purchase amenities for a new weekly farmer's market in an unused downtown parking lot. Part of the grant will be used to purchase an ADA compliant picnic table for the Thursday Night Farmers Market, helping the community become more age friendly.

The new farmer's market opened for the first time this spring and will be held every Thursday through mid-October from 4 to 7 p.m. in a previously unused parking lot downtown at the corner of Beaumont Road and Blackhawk Avenue. Nearly a dozen vendors selling a mix of everything from food to plants and flowers are already setting up every week at the farmer's market, and there is plenty of room for additional vendors.

>>>READ MORE.

GRANT #6
FITCHBURG - GREENWAY SYSTEM
Fitchburg has a network of over 36 miles of multi-use paths for all ages and abilities. However, there has been no prior effort to document and promote this network as an active transportation system. The $1,000 grant from AARP will be used to buy brackets, posts, and signs, which will be installed and maintained by the city as part of an officially designated "Fitchburg Greenway System."

The Fitchburg Greenway System signs, maps, and publicity will help residents without cars walk or ride bikes to many destinations that meet daily needs, such as jobs, stores, library, day care, senior center, medical care, parks, and city hall, and other places that are not reachable by public transit.

>>>READ MORE.

GRANT #7
MILWAUKEE - COOKING WITH SENIORS
Heart 2 Heart Compassionate Widow's Circles, Inc., a nonprofit organization in Milwaukee, will use their Small Dollar, Big Impact funds to provide additional food, equipment, supplies, and a chef to facilitate two "Cooking with Seniors" classes.

"Cooking is not just a chore that has to be done," Hibbler said, "it is an opportunity to escape your realities, relieve stress and free your mind. Seniors will be encouraged to be creative while finding joy in cooking in a fun-filled social environment. After all, when seniors cook their own meals, they are able to control their dietary intake while eating healthy and trying new recipes. Our chefs will provide instruction on how to purchase, prepare, cook, and serve a meal."

>>>READ MORE.

GRANT #8
Winners announced September 7th

GRANT #9
Winners announced October 11th

PREVIOUS YEARS
2021 Recipients

2020 Recipients

Terms and Conditions

By submitting an application to AARP-WI, the applicant agrees that:

The decisions of AARP regarding the eligibility of participants and the validity of entries shall be final and binding.
All submissions will be judged by AARP-WI, whose decisions and determinations as to the administration of the award and selection of award recipients are final.
AARP has the right, in its sole discretion, to cancel, or suspend the award.
All projects and applications shall not violate any third-party rights.
Except where prohibited by law, participation in the AARP- WI Small Dollar, Big Impact Grant constitutes the Applicant's consent to AARP's use of the organization's name and corporate logo, street address, city, state, zip code, county, and names, likenesses, photographs, videos, images, and statements made or provided by the Applicant's representatives regarding the award for promotional purposes in any media without further permission, consent, payment or other consideration.

All promotional materials (such as newsletters, press releases), events and signage related to the funded project will include a statement indicating that support was received from AARP-Wisconsin.

The organization is required to capture photos of the project and is encouraged to capture video. As the organization captures photos and video of the project, if an identifiable individual appears in the photos and/or videos, the organization is responsible for having him/her sign the AARP General Release (this document will be provided to grantees with the MOU and other required paperwork). In addition, the organization should not include any element in photos or videos provided to AARP-WI that may violate third party rights such as artwork and trademarks in text and logo other than those owned by the organization and AARP-WI. The organization should be prepared to send work in progress photos to AARP-WI upon request.

AARP and its affiliated organizations, subsidiaries, agents and employees are not responsible for late, lost, illegible, incomplete, stolen, misdirected, illegitimate, or impermissible submissions or any other error whether human, mechanical or electronic.