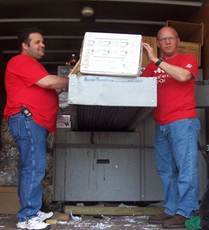 Reduce your chances of becoming a victim of ID theft by safely destroying your personal documents with the help of AARP Alabama at their Free Shredding Event on November 15, 2013.

An industrial-sized shredder will be on-site, and individuals (no businesses, please) may shred up to three bags or boxes of personal papers.

There is no fee for this community service. However, AARP will be collecting non-perishable food items to support the Montgomery Area Food Bank and its disaster relief efforts. Please bring any canned foods or dry goods that you can to help those who have been affected.

Join us on November 15 to avoid ID Theft and leave hunger in the dust!

WHEN: Friday, November 15, 2013, 7:00am - 1:00pm
WHERE: Paterson Field, 1201 Madison Avenue, Montgomery