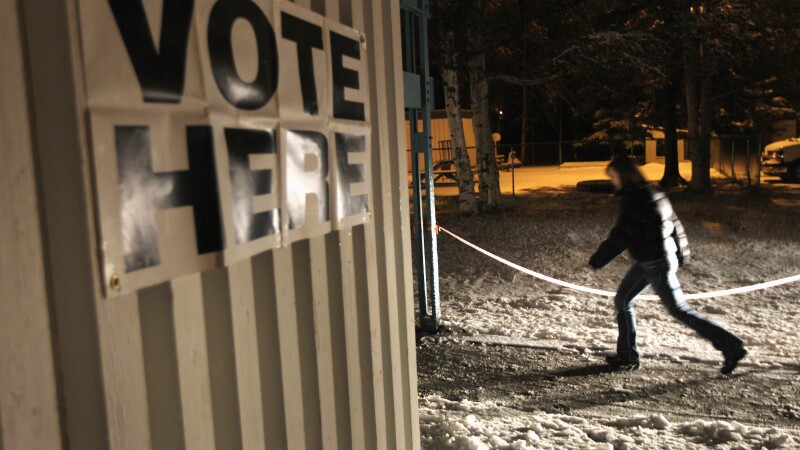 Alaska's U.S. Senate race is deadlocked between two of its Republican candidates, incumbent Lisa Murkowski and challenger Kelly Tshibaka, less than two months before Election Day, according to a new AARP survey of likely voters in the state.

This election cycle marks the first time that Alaska voters are using the ranked-choice system, in which voters rank candidates and more than 50 percent of the total vote is needed to win. If no one reaches a majority, the candidate with the fewest votes is eliminated and their votes are redistributed to the voters' next choice in subsequent rounds. The AARP poll, which imitated the voting system, asked likely voters to select their first-, second-, third- and fourth-choice candidates.

Respondents favored Tshibaka (43 percent) over Murkowski (35 percent) in the poll's first round of voting, but both candidates polled at 50 percent by the final round. The poll shows a wider gap in the race for Alaska's lone House seat. Mary Peltola (D), who won the seat's special election in August, led with 53 percent of the vote in the final voting round, compared to former Alaska Gov. Sarah Palin (R) who was at 47 percent.

Alaska voters age 50-plus will play a pivotal role in deciding the results of November's election, the survey found. Ninety-five percent of older voters say they would "definitely vote," and 88 percent say they are "extremely motivated" to cast their ballot.

More than 1,000 likely Alaska voters were surveyed by the bipartisan polling team Fabrizio Ward & Impact Research in early September.

Here are five other takeaways from the poll:


1.) Incumbent Gov. Mike Dunleavy is polling ahead of his three challengers
Forty-five percent of likely voters 18-plus selected Dunleavy (R) as their first-round choice over opponents Les Gara (D), Bill Walker (Nonpartisan) and Charlie Pierce (R). Gara polled at 24 percent, Walker at 17 percent and Pierce at 6 percent. By the third round, Dunleavy had captured 59 percent of the survey's total votes.

Men are twice more likely to vote for Dunleavy than Gara, the survey found. Respondents ages 18 to 49 were slightly more likely to vote for the incumbent than respondents age 50-plus.

Dunleavy's popularity among older voters is split, too, with 48 percent viewing him favorably and 47 percent viewing him unfavorably. Voters 50-plus cite the state's long-term fiscal plan (16 percent), economy (14 percent), abortion (10 percent), and inflation and rising prices (10 percent) as the top issues that will determine their vote for governor. When it comes to inflation, older respondents say they are most concerned about the rising cost of food, followed by gas and health care.


2.) Two-thirds of likely voters say Alaska is moving in the wrong direction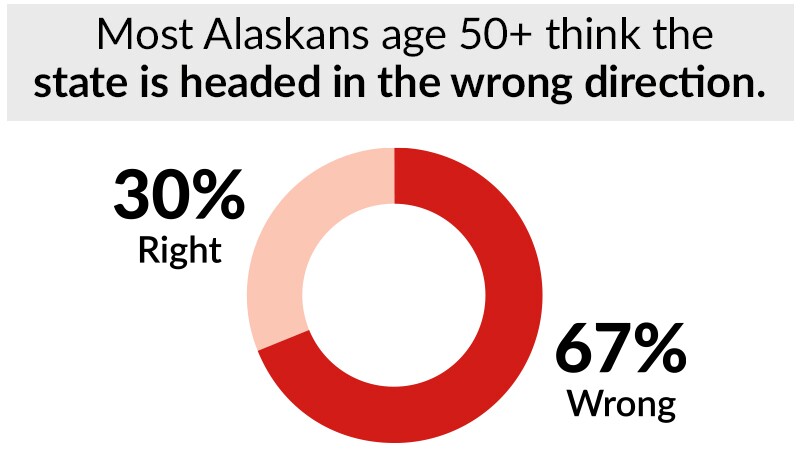 Respondents age 18-plus and age 50-plus are both pessimistic about the future of Alaska, the poll shows. Sixty-six percent of all respondents say that Alaska is heading in the wrong direction, and 67 percent of older respondents agree with that sentiment. Thirty-two percent of voters age 18-plus think Alaska is headed in the right direction, compared to 30 percent of older voters.



3.) Nearly 4 in 10 Alaska voters will vote early or by mail

Thirty-nine percent of voters will cast their ballot before Election Day, with 23 percent planning to vote by mail and 16 percent saying they will vote early and in person.

In 2020, 361,400 Alaskans voted in the general election, according to the state's division of elections. Of those voters, about 27 percent voted by mail. Nearly 15 percent voted early and in person.


4.) 75% of older voters consider Social Security extremely or very important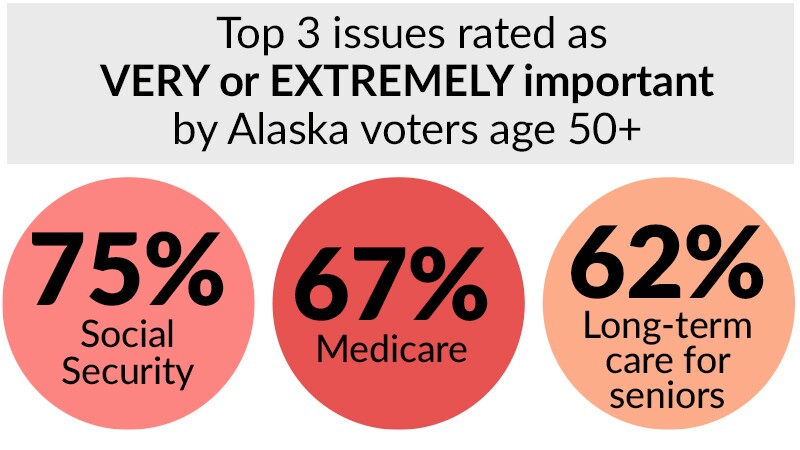 The majority of likely voters 50-plus consider Social Security, Medicare, long-term care for seniors and prescription drug costs to be crucial issues, according to the survey.

Social Security is the highest priority — the federal program is extremely or very important to 75 percent of respondents 50-plus. And its popularity remains high across the political spectrum, the poll found. About 81 percent of Democrats, 73 percent of Republicans and 74 percent of Independents surveyed say Social Security is extremely or very important to their vote.



5.) Nearly half of likely voters do not want a constitutional convention
A ballot measure in November will ask voters whether they think there should be a convention to alter the state constitution. The measure is included on the ballot once every 10 years.

Nearly half (46 percent) of likely voters say they will vote no, while 30 percent say they are in favor of the convention.

The poll's margin of error is 4.4 percent for voters age 18-plus and 3.3 percent for voters age 50-plus.

This story was updated on Sept. 22 with additional polling results.