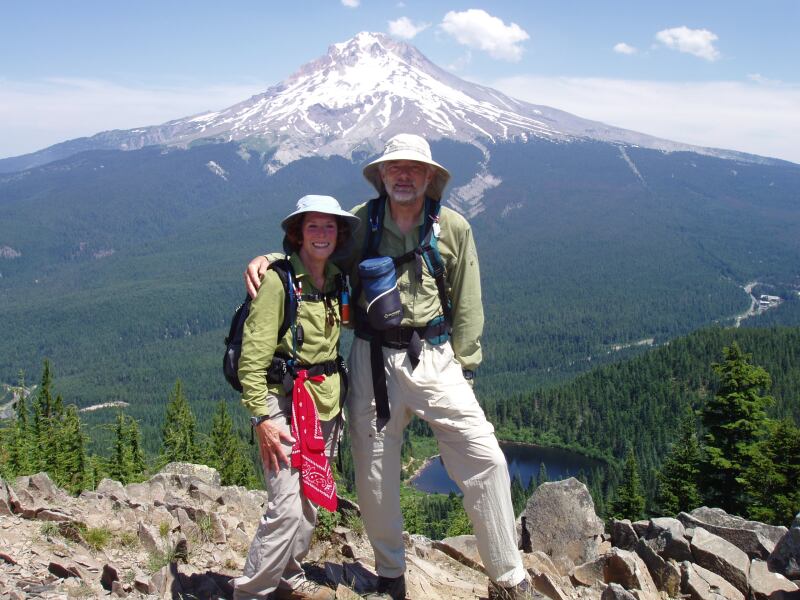 The Ortmann's at the Summit
When an otherwise healthy and active older adult in their 60's or 70's is forced to go on kidney dialysis, it is a life sentence to be tethered to a machine, three days a week, four hours each day; or nine hours every night. While the person may live many more years, they will not be actively pursuing life to its fullest and their heart and body will be deteriorating from dialysis. THIS DOES NOT HAVE TO BE!
Meet Charlie and Mary Ortmann, a dynamic couple who love to hike, play, entertain and travel. Charlie 77 is on dialysis. He IS STRONG NOW, and able to receive a kidney transplant. The list is 5 years long. His heart may wear out first. The answer is a LIVING KIDNEY DONATION.
Living Donation is the way of donating one kidney (we have two and only need one) to save the life of another person. It is a safe, proven laparoscopic procedure. Donors cannot have a history of cancer, diabetes, high blood pressure, obesity, kidney problems etc. They are tested intensively to assure a healthy, safe and happy outcome for the donor and recipient. Yet who wants to give a kidney to a 77 year old man, although if they knew Charlie they would. Charlie is full of life and has a lot more living to do.
Charlie lives in Sun City Grand, a vibrant community of senior citizens active and healthy, enjoying each day to its fullest. Senior citizens usually do not think it possible to donate… they are too old. Not true! It IS possible for a healthy senior to donate . A healthy person of ANY age has the ability to donate, and know that their life style will be unchanged while they save the life of another person.
Charlie is registered at the Mayo Clinic in Arizona, a leader in laparoscopic kidney donation. When asked about age requirements for living donors, Mayo responded,
"The oldest living donor was 75 years old. However, the living donor team looks at the
patients overall health and does not base their decision solely on age."
Healthy Persons of Any Age Can Donate – Do no Harm to the Donor
You may see Mary running around on the tennis or Pickleball court, in yoga or Pilates. And now you will see her and her friends handing out informational cards about Charlie and Living Donation at the Crafts Festivals, Symphony, Car Show and all around town, spreading the word.
Charlie is a blood type O. He can only receive a transplant from another person of type O blood.
The family has blood testing kits
.
Learn about living donation….. www.lkdn.org
Learn about Charlie on Facebook … ourguyneedsakidney
Contact Mary or Charlie  hikersmnc@cox.net
Learn about donating to Charlie … www.Mayoclinic.org/livingdonor - 480 342 1010
It is the hope of Charlie, his friends and family, to educate healthy seniors that face dialysis, that living kidney donation is possible. It is the hope of Charlie, his friends and family, to educate the healthy senior population that they can be living donors, maintain their life style and save a life.
We hope this information saves Charlie's life and the lives of many other seniors now and in the future, who are fortunate enough to live in these unique, spirited and dynamic senior communities..
SPREAD THE WORD – LIVING KIDNEY DONORS SAVE LIVES