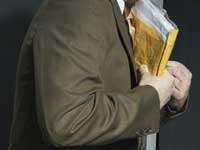 Eight Steps to Keep Online Data Safe from the IRS

Anyone with an online presence can do a few simple things to protect their identity and personal information. Following these eight steps can also help taxpayers protect their tax return and refund in 2018:

Shop at familiar online retailers.
Avoid unprotected Wi-Fi.
Learn to recognize and avoid phishing emails that pose as a trusted source.
Keep a secure machine.
Use passwords that are strong, long and unique.
Use multi-factor authentication when available.
Sign up for account alerts.
Encrypt sensitive data and protect it with a password.
Recognize Phishing Email Scams

The IRS reminds people to be on the lookout for new, sophisticated email phishing scams. These scams not only endanger someone's personal information, but they can also affect a taxpayer's refund in 2018. Even if an email is from a known source, people should use caution because cybercrooks are very good at mimicking trusted businesses, friends and family.

Five Steps Data Breach Victims Can Take

People who are the victim of a data breach should consider these five steps to help protect their sensitive information that can be used on a tax return:

Determine what information the thieves compromised.
Consider taking advantage of credit monitoring services offered to victims.
Place a freeze on credit accounts to prevent access to credit records
Reset passwords on online accounts.
Use multi-factor authentication when available.
For more information visit: www.irs.gov/identity-theft

or visit us at aarp.org/fraudwatch