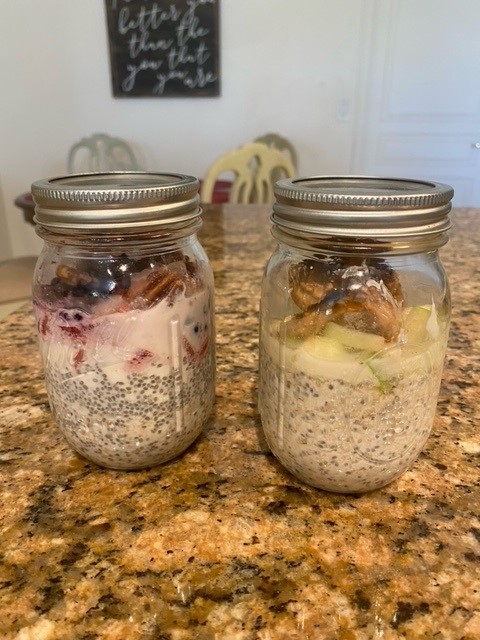 "Have you ever heard, 'Eat breakfast like a king, lunch like a prince, and dinner like a pauper?'" Breakfast is thought by many to be the most important meal, and we should enjoy what we are eating! Coach SheriAnne will discuss how you can eat breakfast like a king or queen, getting a significant proportion of your fuel and nutrients early in the day. She'll also share delicious and fun breakfast ideas that you can easily recreate. The discussion is part of Back to Basics, an ongoing series about living healthier, more fulfilling lives.

Read the recipes discussed here:


Egg Bites:

This is another recipe for you can have the liberty of adding whatever you would like. Make sure you have a small muffin pan. The one I use is literally one bite, they are pretty small, six muffins equals two eggs because I added milk and other ingredients.

Mix together 8 eggs, 1/4 cup milk, and whatever seasoning you choose. I like to use pepper and Tajin.

Then you can add whatever chopped ingredients you would prefer. I added chopped spinach, bacon bits, diced bell peppers, cheese and diced tomatoes.

Just remember the more ingredients you add, the fuller than muffin will be.

Bake at 400° for 8–10 minutes.

Store and then airtight container and reheat as desired.


Avocado Toast:

We choose to use a hearty bread like Ezekiel bread. You can use sliced avocados, or guacamole, or mash your own avocado with whatever seasoning you would like. Spread it on toasted hearty grain bread. Top with a sunny side up (or whatever style egg) and diced tomatoes.


Power Bowl:

Loaded with color and nutrients.

1/2 cup quinoa, brown rice, lentil blend

1/2 spinach or mixed greens

1/2 avocado

1/2 cup diced tomatoes

1/2 cup cooked purple cabbage (or beets or cauliflower)

1 egg (optional for extra protein)

Feel free to stir it all together and top with a homemade vinaigrette.

Enjoy!


Yogurt/Cottage Cheese with Fruit and Grain-Free Granola:

1 cup Cottage Cheese or Greek yogurt

1 cup of fruit, whatever you choose

1/4 cup grain free granola (typically nuts, seeds, coconut)

Stir and enjoy!


Overnight Oats:

1/2 cup old fashion or steel cut oats

1/2 cup of milk (dairy or non dairy)

1/4 cup Greek yogurt

1 Tbsp of chia seeds

1 Tbsp of maple syrup (or sweetener of choice)

Mix together in 12 or 16oz mason jar. Store in refrigerator over night.

Then feel free to add whatever you would like. I added strawberries, blueberries, pecans, a little bit of honey and cinnamon.

Or you can add diced apples, tablespoon of peanut butter, a little bit of honey and cinnamon.

This is where you can get creative and add whatever you would like to the base recipe of overnight oats.

Enjoy the creamy oats, either warm or cold.