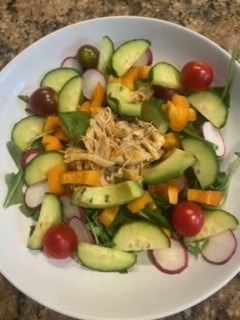 Having good balance helps in preventing falls, injury, and simply making your daily activities easier to perform. Coach SheriAnne will share a few tips to help you maintain balance, as it is a complex task that requires coordination from your body as well as your brain, eyes, and ears. The discussion is part of Back to Basics, an ongoing series about living healthier, more fulfilling lives.

The key is to take a day a week and prepare some foods, such as ground beef, shredded chicken, ancient grains. This way you have staples that you can easily add to to give you a healthy and easy lunch.

Below are the lunch ideas that were discussed in Tuesday's episode.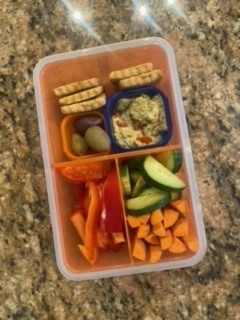 Bento Box - have fun with this and add whatever you'd like. Simply make sure you have a complete protein if you make it vegetarian like this one. This box has carrots, cucumbers, red bell peppers, Greek olives, hummus, and multigrain crackers.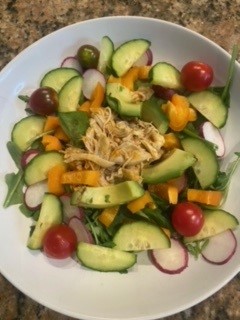 Shredded Chicken Salad - mixed greens, radishes, cucumbers, tomatoes, orange bell peppers, avocado and topped with my homemade vinaigrette.
You can replace the chicken with shredded beef, tuna, or any other meat.

Vinaigrette Recipe-
1 cup olive oil
1 cup seasoned rice vinegar
2 tsp garlic powder
2 tsp oregano (or Italian seasoning)
1 tsp black pepper
Place all ingredients in a shaker bottle and serve as desired.

Macro (or Power or Buddha) Bowl - once again, have fun with this and be sure to get a complete protein if you are going vegetarian. This power bowl has ancient grains, garbanzo beans, mixed greens, tomatoes, avocado, cooked purple cabbage and can be topped with a vinaigrette.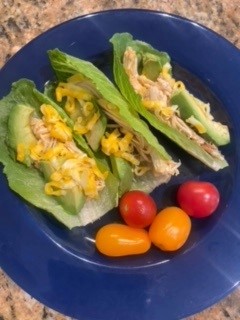 Lettuce Wraps - Buffalo Shredded Chicken (made in my instapot) avocado, shredded cheese, and tomatoes. Can dip in a Greek yogurt sauce or drizzle vinaigrette over the wraps.



Egg Salad Sandwich - first, be sure to pick a hearty grain bread, either Ezekiel bread, Dave's Killer bread, or a whole grain from the bakery. Top with mixed greens and egg salad, and serve with a fruit or vegetable.

My egg salad recipe changes each week. Try different variations.

Egg Salad Recipe-
1. Mix some Greek yogurt, fresh dill, fresh lemon juice, kosher salt, and black pepper in a small bowl.
2. Add chopped hard boiled eggs and stir to coat.
Make sure you use enough salt, lemon juice, and dill. Greek yogurt has a lot less flavor than mayonnaise, so you'll need to compensate a bit. Have fun with taste testing as you make this dish and you'll mail it.