En Espanol | With ballots-by-mail available for all registered voters, Arizona makes it easy to safely vote from home during the coronavirus pandemic:

Election Day is Tuesday, Nov. 3, and polls will be open from 6 a.m. to 7 p.m. Arizona's voter information portal has more information about where to cast your ballot. Your polling place may be different this year, so check before you leave.
Be prepared for potentially long lines, and remember to take your mask and to follow social distancing measures at the polls.
With Election Day only days away, consider dropping off your mail-in ballot in person. Use the state's voter information portal to determine where to take your ballot.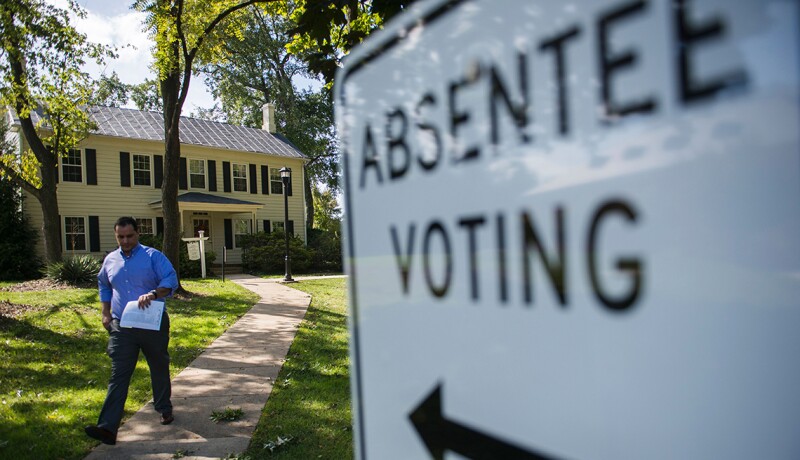 Here's what else you need to know:

How do I register to vote?

You can register online, by mail or in person. If you have an Arizona driver's license, can register at the state's Service Arizona website. You can also download a registration from the Arizona Secretary of State's site to fill out and e-mail, mail, or drop off at your county recorder's office. Or register to vote in person at your county recorder's office. Note that the deadline to register in time to vote in the November general election is now Oct. 15, after a circuit court overturned an initial Oct. 23 extension.

You can check if you're already registered and update your registration information at the Service Arizona site.

How can I get a mail-in ballot? Are there important deadlines?

Registered voters have two options for mail-in voting in Arizona: sign up for the Permanent Early Voter List to automatically be sent a ballot-by-mail for all elections in which you're eligible to vote or request a one-time ballot-by-mail. You can sign up for the permanent list online or print out the application and send it to your county recorder's office. You can also request a one-time ballot-by-mail online or by calling or e-mailing your county recorder's office, or by downloading and filling out the application to send to your recorder's office by e-mail, mail or fax. The deadline to get on the Permanent Early Voter List and to request a one-time ballot by mail is Oct. 23 at 5 p.m.

Mail-in ballots will be sent out beginning the week of Oct. 7. Postage-paid envelopes are provided, and officials urge voters to mail them back by Oct. 28 so that they arrive by 7 p.m. on Election Day, Nov. 3. Mail-in ballots can also be dropped off at county ballot drop boxes, early voting sites, or Election Day voting sites, which will be listed on your county recorder office's website by 7 p.m. on Election Day.

How do I know my absentee ballot is secure?

Arizona uses tamper-evident envelopes, ballot tracking, signature verification, and other measures to ensure votes are secure and properly counted.

You may track the status of your ballot at My.Arizona.Vote to confirm that it was received and counted. You can also verify that your vote by mail ballot has been received with the county recorder's office in the county in which you voted.

When is Election Day? When are polls open?

Tuesday, Nov. 3. Polls are open from 6 a.m. to 7 p.m.

Can I vote before Election Day?

Yes. Early voting sites star opening Oct. 7 and are available through Oct. 30. Check your county recorder website for locations and hours.

What form of identification do I need to vote?

Arizona requires a driver's license, Arizona ID card, other federal, state or local ID with your printed name and address, or a tribal ID card to vote in person. See a full list of acceptable IDs online.

What is being done to make polling places safe from coronavirus?

Arizona is providing masks, hand sanitizer, single-use pens, cleaning supplies, signs, other equipment and special training for poll workers. The secretary of state's office has a guide to voting safely amid the pandemic.

Will I be able to vote in the same place as I always have?

Not necessarily. Many of the usual polling places are unavailable this year due to COVID-19. Check your county elections website for the latest. Instead of assigned precincts, Maricopa County is opening scores of vote centers open to all registered voters at public locations throughout the county, starting 27 days prior to the election.

What are the key races in my state?

U.S. President
U.S. Senate: Incumbent Martha McSally (R) vs. Mark Kelly (D)
U.S. House: All 9 seats
State House of Representatives: All 60 seats
State Senate: All 30 seats
Arizona Corporate Commission: 3 of 5 seats
This story was updated on Nov. 2 with more information about how to drop off a mail-in ballot in person. Voting rules and procedures may change before Election Day. We'll update this story if they do, so bookmark this page and check back.

AARP is urging older Americans to ask the candidates 5 key questions:

Just over half of all older Social Security beneficiaries rely on the program for at least 50 percent of their income. If elected, how will you ensure that current and future Social Security benefits are not cut as part of deficit reduction?
Half of the people with traditional Medicare spend at least a sixth of their income on health care. If elected, how will you protect Medicare from benefit cuts, as well as lower health care costs and ensure seniors continue receiving the affordable health care they have earned?
COVID-19 has caused death and suffering for too many older Americans who require long-term care. If elected, how will you make sure seniors can access safe and affordable long-term care at home, as well as in facilities like nursing homes and assisted living?
Also of Interest