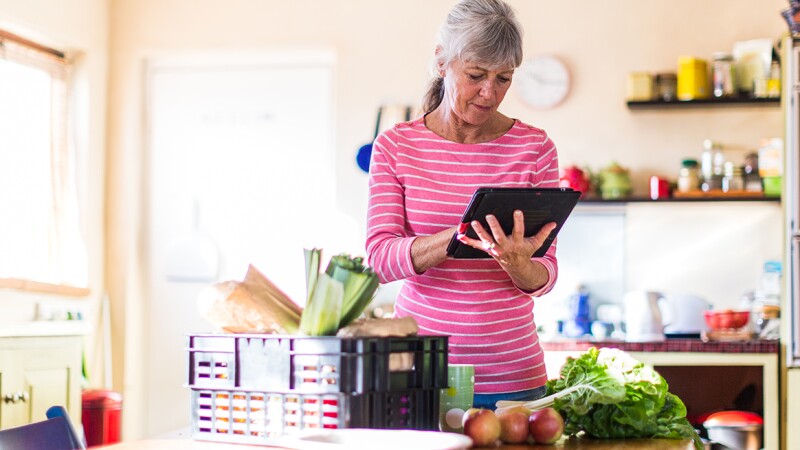 In the face of the coronavirus pandemic, AARP Arizona is providing information and resources to help older Arizonans and those caring for them protect themselves from the virus and help prevent it from spreading to others.

To help contain the spread of COVID-19 and other diseases spread through respiratory droplets, including the flu, Arizona Governor Doug Ducey and Arizona health officials have issued the following recommendations:


Wash your hands regularly with soap and water for at least 20 seconds or use an alcohol-based hand sanitizer.
Refrain from touching your eyes, nose and mouth.
Don't make close contact with sick individuals.
If you are sick, stay home.
Cover coughs or sneezes with a tissue and throw the tissue away.
Clean and disinfect objects that are frequently touched.
If someone in your family tested positive for COVID-19, keep that entire household at home.
Recommendations to cancel or postpone mass gatherings of 10 or more people
Dial 2-1-1 for important information in English and Spanish.
If you have coronavirus symptoms, call your health care provider or local public health department to figure out if you could — and should — get tested. Signs of the virus are a dry cough, fever and shortness of breath. (Read more about coronavirus and how to stay safe.)

There is a growing amount of testing capabilities for coronavirus in Arizona. However, not everyone with symptoms will get tested. Healthcare workers are prioritizing the sickest in our communities for testing.

Also, you'll need a doctor's order for the all coronavirus testing..


Banner Health has launched four new drive-through coronavirus testing sites and a phone number to call if you feel sick.

If you have concerns about coronavirus symptoms or exposure you can call Banner Health at 1-844-549-1851. A clinical team member can talk to you to determine if testing is appropriate. The hotline is open from 7 a.m. to 6 p.m. Monday though Thursday, 7 a.m. to 5 p.m. on Friday.
If testing is needed, you will be scheduled to visit a Banner drive-thru site. There are three sites in Phoenix and one in Tucson. Banner expects to open more at a later date, the locations have not been disclosed.
The Coconino County Department of Health and Human Services now has drive-up coronavirus swab testing available at one location: Coconino Community College 4th Street from 10 a.m. to 3 p.m.

Coconino County said an order from a medical provider is required for testing. Testing sites are NOT open to the public and people without the proper documentation will be turned away.
Coconino County's hotline for information on COVID-19 is 928-679-7300. It operates from 8 a.m. to 9 p.m. on weekdays and from 9 to 4 on Saturday.
The Mayo Clinic of Arizona is providing drive-thru COVID-19 testing. Testing is open Monday through Friday from 9 a.m. to 5 p.m. and is only for Mayo Clinic patients with a written order from a Mayo Clinic doctor.
Maready Medical in Mesa is offering drive-up testing for patients with a doctor's order. Patients must make a virtual appointment with the office and if a doctor determines the patient has COVID19 symptoms, they can drive up for a test.

Patients can make a virtual appointment here.
Up-to-date state and local health information:

https://www.azdhs.gov/ Arizona Department of Health offers updates on those infected, plus tips for prevention, public resources and
For medical, food and recovery services and information, call your local 211.
Food assistance resources:

Unemployment benefits:

Grocery Stores with Senior Hours: (Depending on where you live you can also shop for your groceries online. Costco will deliver your groceries depending on where you live, they have one day and two day services available. Sometimes you have to wait a few days to get your order filled and they do have a delivery charge. The same with most grocery stores.)

Costco
All Costco stores in the Phoenix metro area will offer special shopping hours for seniors Tuesdays and Thursdays from 8 a.m. to 9 a.m. This will begin on March 24.

Bashas', Food City and AJ's Fine Foods will open from 5 a.m. to 6 a.m. on Wednesdays for anyone age 65 and older to shop. The move comes after the CDC recommended that people over age 65 leave their houses as little as possible because they are the most vulnerable to the virus.
Any Bashas' stores located on a reservation will be open on Wednesdays from 6 a.m. to 7 a.m. for those 65 and older.

AJ's Fine Foods
● AJ's Online Grocery Delivery Link
● Senior Shopping Hours 5-6 a.m. on Wednesdays

Safeway
● Online Shopping Link
● Offers delivery- $30 Minimum
● Store Pick- Up
● Senior Shopping Hours 7-9 a.m. on Tuesday and Thursdays

Albertson's
● Grocery Shopping Link
● Senior Shopping Hours 7-9 a.m. on Tuesday and Thursdays
● Limited availability but delivery

Fry's Food Stores
● Store Locator Link
● Free Store Pick-Up
● $10 Delivery
● Free Shipping on groceries with $35 minimum
● Senior Shopping Hours Monday- Thursday 6-7 a.m.

Whole Foods
Whole Foods Market stores in the U.S. and Canada will service customers who are 60 and older one hour before opening to the general public. (Example: if a store's new hours are 9am-8pm, customers who are 60+ can shop starting at 8am.)
● Online Ordering
● Senior Shopping Hours 8-9 a.m.

Target
Target will reserve the first hour of shopping each Wednesday to support vulnerable guests, including the elderly and those with underlying health conditions. Check your local Target store for when they open.
All Target stores nationwide will close at 9 p.m. until further notice.
● Online Grocery Link
● Same Day Delivery
● Senior Shopping Hours 8-9 a.m. on Wednesdays

Walmart
All Walmart stores across the country will be open from 7 a.m. to 8:30 p.m. The only exception to those hours is the stores that traditionally open later. They will continue to open at that later time. The reduced hours will give its employees more time to restock shelves and clean the store.
Walmart stores will host an hour-long senior shopping event every Tuesday from 6 a.m. to 7 a.m. for customers 60 years old and up.
Additionally, Walmart said it will limit the number of specific items customers can buy to help make sure others have access to them. Some of these items include paper products, milk, eggs, cleaning supplies, hand sanitizer, water, diapers, wipes, formula, and baby food.
● Walmart Grocery Online Shopping Link
● Free Store Pick-Up
● Grocery Delivery- select locations

Instacart
● Online Shopping Link
● Enter location
● Have a person shop for you

Trader Joes
● Store Locator
New Hours: 9 a.m.- 7 p.m

Dollar General
Dollar General says it will dedicate the first hour of store operations each day to senior shoppers in response to the coronavirus epidemic. The store chain will also close most stores an hour earlier to allow its staff to restock shelves and clean the store. You are urged to check your nearest Dollar General store for hours and the senior shopping hours.

Los Altos Ranch Markets
Los Altos Ranch Markets are holding temporary store hours for seniors and first responders from 6 a.m. to 7 a.m daily. The general public hours will be from 7 a.m. to 11 p.m.
If there is a need for a caretaker, one caretaker is welcome, but will not be allowed to shop for themselves.
All purchase limitations will remain in effect.

Sprouts
● Sprouts Online Shopping Link
● Delivery Available


UTILITIES:
Several uilities such as SRP, APS, Southwest Gas, municipal water, and COX have agreed not to disconnect for non-payment and waiving late-payment fees. This list is growing so please check with your local providers.

Governor Ducey Launches Information Page:
Governor Doug Ducey launched the Arizona Together initiative to support Arizonans during the COVID-19 outbreak, connecting individuals and businesses to resources, raising money for community organizations and providing information on volunteer opportunities. A website, ArizonaTogether.org, serves as the centralized location for Arizonans to find help or provide support.

Remember to follow CDC guidelines https://www.cdc.gov/coronavirus/2019-ncov/index.html

Arizona has also launched an all-in-one resource website for Coronavirus https://arizonatogether.org/#individual-resources

Arizona Department of Health Services - includes state related information about the illness and where to get a test.

https://www.azdhs.gov/preparedness/epidemiology-disease-control/infectious-disease-epidemiology/index.php#novel-coronavirus-home

Hotline number: 1-844-542-8201

Centers for Disease Control and Prevention - federal information on the COVID-19 crisis. https://www.cdc.gov/coronavirus/2019-ncov/about/index.html


HOUSING, FOOD AND NECESSITIES
AZ Department of Economic Security (DES) Services – DES has set up a specific COVID-19 page with information and phone numbers. Please note that information for unemployment insurance benefits are provided on this website. https://des.az.gov/services/coronavirus

Health-e-Arizona PLUS – Online application for nutrition assistance (food stamps), Medicaid (AHCCCS) and cash assistance. https://www.healthearizonaplus.gov/Default/Default.aspx#
Telephone assistance for the application - 1-855-432-7587

Community Action Agencies (CAA) – CAAs offer a wide variety of services including rental assistance and general casework. https://des.az.gov/services/basic-need/community-action-agencies

The Senior Help Line – The Senior Help Line is the top resource for Arizona's seniors and elderly. The hotline operates 24/7 and has a great library of resources to pull from.
https://www.aaaphx.org/program-services/24-hour-senior-help-line/
24/7 Hotline Number - 602-264-4357



Food banks – This is a directory of food banks provided through the Arizona Food Bank Network. http://www.azfoodbanks.org/index.php/foodbank/



EVICTION ASSISTANCE
The Arizona Department of Housing offers limited eviction assistance in certain zip codes, please refer to this website for further information.

https://housing.az.gov/general-public/eviction-prevention-assistance

Arizona landlord/tenant program – The landlord tenant program is provided through the City of Phoenix. https://www.phoenix.gov/nsd/programs/landlord-tenant-counselin
EDUCATION INFORMATION AND FOOD SERVICES THROUGH PUBLIC SCHOOLS:



Public Schools – The AZ Department of Education has guidance for parents and schools on their website. https://www.azed.gov/communications/2020/03/10/guidance-to-schools-on-covid-19/

OTHER GOVERNMENT RESOURCES:

The Governor's Office – For questions specific to what the Governor is doing or Governor's executive orders, please refer them to the Governor's website.
https://azgovernor.gov/

City of Phoenix - information about impacted services;
https://www.phoenix.gov/newsroom/em-and-hs/105
Small businesses in need of help – The Arizona Commerce Authority has set up a webpage with business specific resources.
https://www.azcommerce.com/covid-19/


FEDERAL GOVERNMENT RESPONSE:



What is the federal government doing? – For any questions related to the federal government and any aid they may approve, please contact your Congressional members. Please note that until a bill passes at the federal level, agencies don't know how it'll affect benefits including social security, Medicaid and food stamps.
Arizona Senators:
Senator Sinema - https://www.sinema.senate.gov/
Senator McSally - https://www.mcsally.senate.gov/

ADDITIONAL INFORMATION:
MVD, my driver's license is expiring –Here is text from the MVD website:
"Driver License renewal requirements are extended six months from the expiration date for all Arizona driver licenses and driving permits that expire between March 1, 2020 and September 1, 2020.

For example, if a driver license expires on March 20, 2020, the new expiration date will be September 20, 2020.

Requirements to submit a medical clearance card for a commercial driver license are extended until September 1, 2020."

Full text can be found here:
https://azdot.gov/motor-vehicle-services

More on Coronavirus