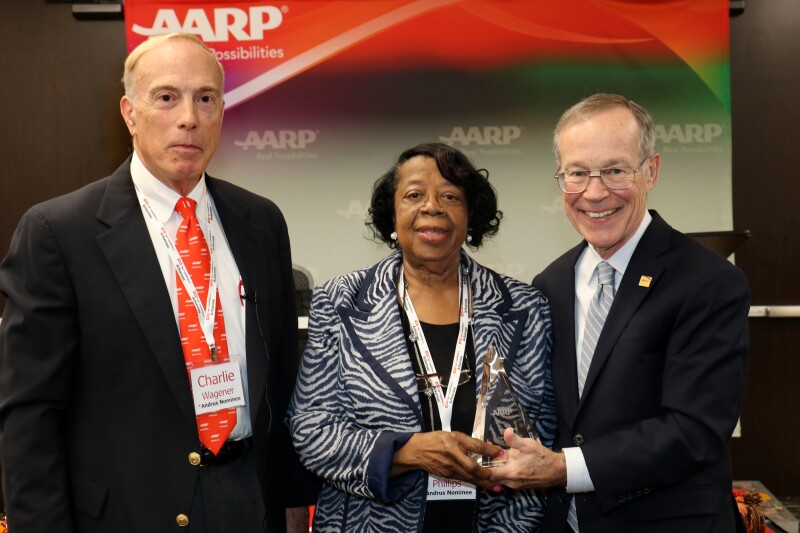 HOT SPRINGS— Virgie Phillips of Helena-West Helena is the 2016 recipient of the Andrus State Award for Community Service, AARP's most prestigious and visible volunteer award.

Phillips received the award on the second day of AARP Arkansas' inaugural Volunteer Summit, held Wednesday and today in Hot Springs. Also presented today were AARP Arkansas' 2016 Distinguished Service Award, to Brodie Watson of Maumelle, and the 2016 Team Recognition Award.

The awards were presented by Eric Schneidewind, AARP's national President, who delivered keynote remarks at today's Volunteer Awards Luncheon.

The Andrus Award is AARP's most prestigious and visible volunteer award for community service. The award recognizes outstanding individuals who made their communities better in ways that are consistent with AARP's mission, vision and commitment to volunteer service, and who inspire others to volunteer.

AARP's commitment to volunteer service can be traced back to the life and vision of founder Dr. Ethel Percy Andrus. From the beginning, her motto, "To serve, not to be served," has shaped AARP's community service efforts at the national, state and local levels. The Andrus Award winner is nominated by his or her peers and the award recipient is chosen by a special selection committee consisting of AARP Arkansas volunteer leaders.

This year's Andrus recipient, Virgie Phillips, has a distinguished and impressive legacy of accomplishment as a volunteer leader. She has been the driving force behind several key projects in the Helena-West Helena community, and among other accomplishments she:

Secured a Rural Health Grant to build a health clinic;
Organized the Lake View Ladies Fire Auxiliary to support the Fire Department;
Put together a group of retired teachers to tutor students who were transferred to the Barton-Lexa School District, after the Lake View School District was consolidated by the state of Arkansas; and
Rallied the community together amid concern about how a no longer used school building in the former Lake View District would be used. In partnership with the Arkansas Public Policy Panel in Little Rock and the Barton-Lexa School Board, secured passage of a state law that allows vacant school buildings, in consolidated school districts, to be donated to a city or town for public uses such as a community center.
Virgie has shown " leadership [and] community advocacy, as an organizer, counselor, inspirational speaker, collaborator… She made you feel that you had a chance and could move beyond the environment," according to the nomination form. "One word she gives is: 'There is a brighter road ahead.' "

Because so many high-quality volunteers have historically been nominated for the Andrus Award, AARP Arkansas created the Distinguished Service Award and it is given to the nominee who is runner-up for the Andrus Award.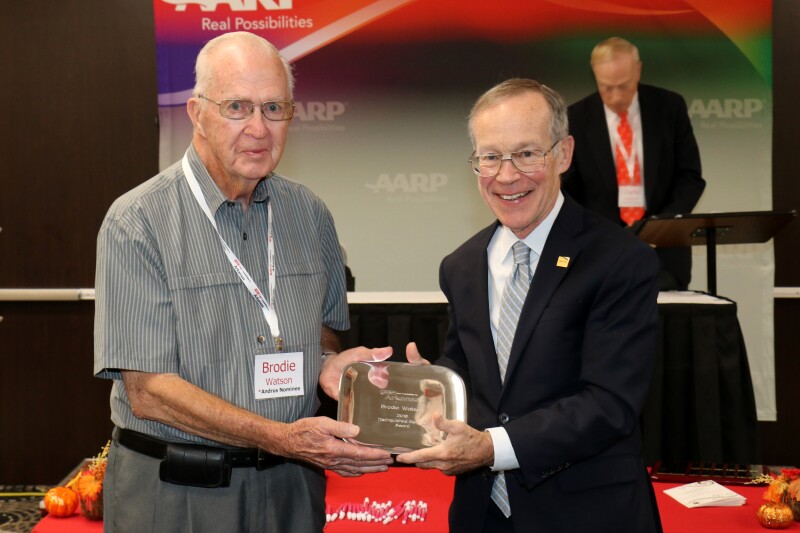 Brodie Watson of Maumelle, this year's Distinguished Service Award winner, is described in the nomination form as renowned for his stamina to support his involvement in many projects—taking on new tasks while not neglecting his current projects.

"This is a reflection of his deep dedication and overwhelming commitment to volunteer service," the nomination form said. "He impacts others by example…Due to his volunteerism, the AARP Maumelle Chapter continues to grow making it one of the most—if not the most—successful chapters in the state."

The 2016 Team Recognition Award recipients are the Prepare to Care Speakers Bureau, the members of which raised awareness in presentations to various groups about caregiving and distributed hundreds of copies of AARP's Prepare to Care: A Caregiving Planning Guide for Families.

PTC Speakers Bureau members are (in alphabetical order): Jeff Carr; Johnetta Crumbly; Barbara Davidson; Francine Exson; Karen Gilmore-Thomas; Classie Green; Judy Grube; Florence Marvin; Robert Scott; Wally Sheldon; Dick Suits; and Leroy Williams.

More information about AARP Arkansas activities and the key role of our volunteers is available at www.aarp.org/ar; on Facebook at www.facebook.org/AARPArkansas; and on Twitter @ARAARP

About AARP

AARP is a nonprofit, nonpartisan organization, with a membership of nearly 38 million that helps people turn their goals and dreams into 'Real Possibilities' by changing the way America defines aging. With staffed offices in all 50 states, the District of Columbia, Puerto Rico, and the U.S. Virgin Islands, AARP works to strengthen communities and promote the issues that matter most to families such as healthcare security, financial security and personal fulfillment. AARP also advocates for individuals in the marketplace by selecting products and services of high quality and value to carry the AARP name. As a trusted source for news and information, AARP produces the world's largest circulation magazine, AARP The Magazine and AARP Bulletin. AARP does not endorse candidates for public office or make contributions to political campaigns or candidates. To learn more, visit www.aarp.org/ar or follow @aarp and our CEO @JoAnn_Jenkins on Twitter.