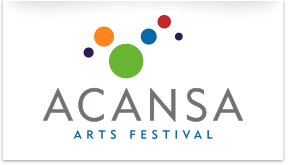 The ACANSA Arts Festival will be held this year from Wednesday, September 21 through Sunday, September 25, and AARP members can save 20% on tickets.

The festival officially opens September 21 with a free 6-8 p.m. opening performance by Ballet Arkansas at the Junior League building, 401 Scott St. in Little Rock.

Now in its third year, the five-day festival will feature live performances, exhibits, educational opportunities, workshops and activities throughout Little Rock and North Little Rock.

Venues include The Butler Center for Arkansas Studies; Arkansas Repertory Theatre's Black Box at the Annex; Pulaski Technical College's Fine and Performing Arts/Humanities Center; Mosaic Templars Cultural Center; Argenta Community Theater; Samantha's Tap Room & Wood Grill; Wildwood Park for the Arts; and more.

AARP members can use promotion code ACANSA20 to get a 20% discount on all tickets purchased. Tickets can be purchased by calling 501-663-2287 or online at www.acansaartsfestival.org where a complete schedule also is available.