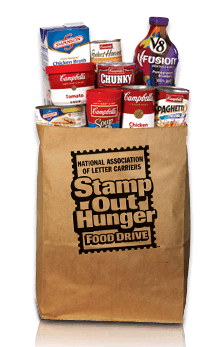 The donations keep growing and Arkansans 50+ are in less danger of going hungry now, thanks to AARP's Stamp Out Hunger 2013 Drive. Conducted in association with the U.S. Postal Service and National Association of Letter Carriers, Stamp Out Hunger 2013 netted a record 699,905 pounds of non-perishable food--nearly 350 tons, topping the 2012 tally of 689,589 pounds. These numbers add up to hundreds of thousands of meals for hungry Arkansans 50+ across the Natural State.

"Many hungry Arkansans, especially those who are older, benefited from this tremendous outpouring of generosity," said AARP Arkansas State Director Maria Reynolds-Diaz.

Letter carriers from the U.S. Postal Service delivered collected food donations to local food banks and pantries across the state. The Drive, part of the nationwide Stamp Out Hunger campaign, is held each May to help the one in five Arkansas households which struggle to put enough food on the table. Arkansas is also the fifth hungriest state for older adults.

Thanks to all of our members for helping fight hunger in Arkansas.