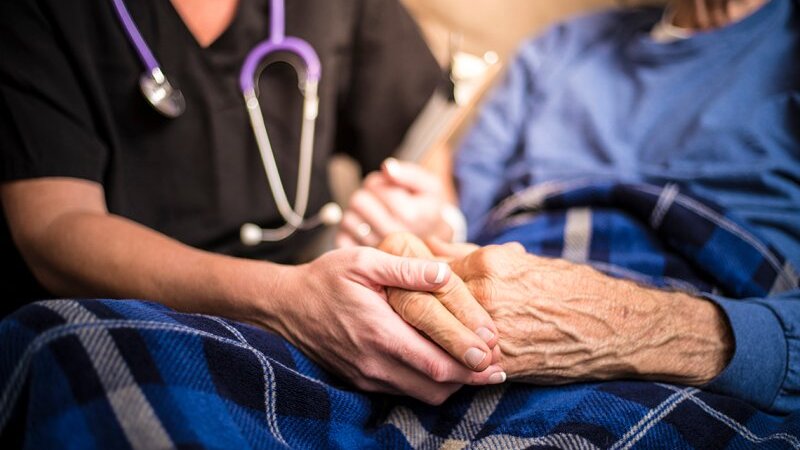 Nursing homes in Arkansas are struggling with the highest rate of COVID-19 infections among residents in the nation, an exclusive new AARP analysis of recent government data shows.

The state clocked an average of 5.9 COVID-19 cases per 100 nursing home residents over four weeks from late August to late September. That's more than double the national average of 2.6 cases per 100 residents, according to the analysis, which draws on self-reported data. Arkansas saw 872 resident cases in total, and over a third of the state's nursing homes reported an infection in one or more of its residents.

Perhaps unsurprisingly, the state's rate of COVID-19 deaths among residents, 0.94 COVID-19 deaths per 100 residents, also tracked well above the national average of 0.48. Nursing home residents, who are generally older adults with underlying conditions, are at increased risk of infection and severe illness from the disease, according to the Centers for Disease Control and Prevention. As such, more than 45 percent of the COVID-19 deaths in Arkansas since June have been among nursing home residents.

The analysis also revealed Arkansas is experiencing a high rate of COVID-19 infections among staff in nursing homes, which is alarming because studies show that infected staff are one of the greatest drivers of infections among residents. Arkansas reported the second-highest staff infection rate in the country: 5 infections per 100 staff, which was double the national average. Only North Dakota reported a higher rate.

Staff cases also appeared to be more widespread than resident cases, with nearly 70 percent of the state's nursing homes reporting one or more staff infection; that's more than double the amount of homes that reported resident infections.



Ness Nehus, associate state director of advocacy for AARP's Arkansas office, describes the results as "distressing" and "very startling."

"It's a little confounding to tell you the truth," she says, "because it looks like [nursing homes] are being provided with the [personal protective equipment] they need and they're also reporting about the national average on staffing levels, but somehow the infections are high. And so you have to wonder what's going on with their infection-control practices."

Only 13 percent of Arkansas nursing homes reported insufficient PPE, whereas the national average was 26 percent. Arkansas also reported being just below the national average in the staffing-shortages category; 28 percent of its nursing homes reported a lack of nurses, aides or both, while 29 percent of U.S. nursing homes reported shortages of these staff members.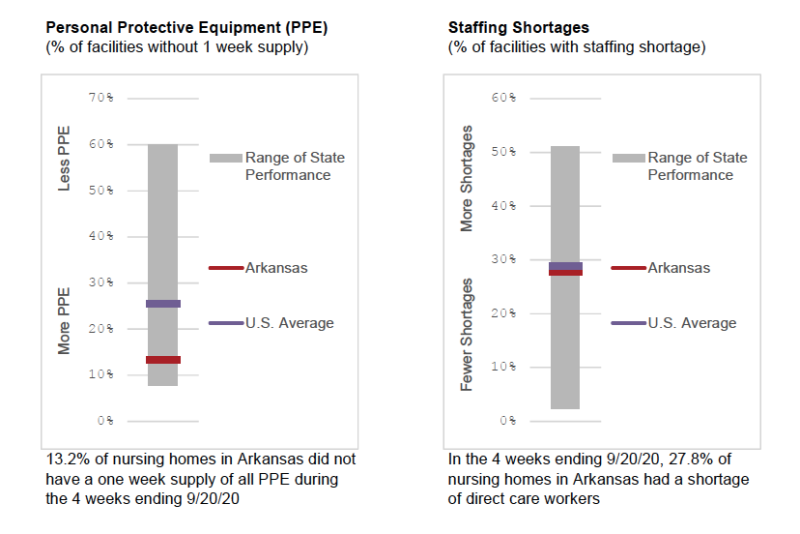 Nehus says in light of the analysis, AARP Arkansas will be fiercely advocating for more thorough infection-control inspections within the state's nursing homes.

"There needs to be more accountability on what those facilities are doing with their CARES Act funding, which they're supposed to use for patient care."

Read Arkansas' full results here.

The analysis, conducted by AARP's Public Policy Institute and the Scripps Gerontology Center at Miami University in Ohio, draws primarily on data acquired from the Nursing Home COVID-19 Public File by the Centers for Medicare and Medicaid Services (CMS). Nursing homes are federally certified and required to submit data to the government each week.

The AARP analysis uses data from Aug. 24 to Sept. 20, in which 95 percent of the
nation's 15,366 nursing homes submitted data for all four weeks. The analysis only captures data from federally certified nursing homes, not all long-term facilities, as some other tallies do. Going forward, AARP plans to release a new analysis on these five topics each month, as new federal data become available.