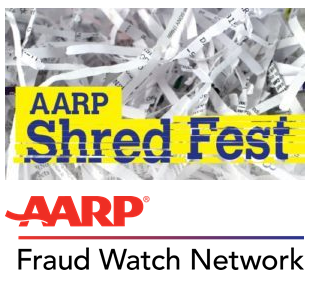 Every 2 seconds someone's identity is stolen. To help consumers protect themselves from ID theft, AARP Arkansas in October will host free Fraud Watch Network shredding events in Springdale and in Little Rock.

AARP will partner with local shredding providers in Springdale on October 21 and in Little Rock on October 28 to take any confidential documents you no longer need and shred them at no charge.

Volunteers are also needed to help out at the event. Contact Lou Tobian of AARP Arkansas for details.

Shredding will be done on-site, which is the most secure way to shred. Plus all material is 100 percent recycled. In 2 or 3 weeks, shredded documents will become paper towels, napkins or bathroom tissue.

Instead of a charge for shredding, AARP suggests a donation of non-perishable food.

Springdale Free Shred Fest
Saturday, October 21, 2017
9 a.m. to noon
Arvest Ballpark
3000 S. 56th St.
Springdale, AR 72762

Little Rock Free Shred Fest
Saturday, October 28, 2017
9 a.m. to noon
Metroplex Event Center
10800 Colonel Glenn Road
Little Rock, AR 72204

GUIDELINES:
•Limit 3 boxes per vehicle
•Personal documents only; no businesses
•No spiral binders or other large metal objects
•No plastic or batteries
•Staples are OK
•No cardboard boxes
•The shredding truck will cease operating once shredding capacity is reached.

For more information on how to keep yourself safe from identity theft scams and other fraud schemes, check out the AARP Fraud Watch Network.