H.C. "Hank" Klein of Sherwood, a longtime AARP Arkansas volunteer leader, played a key role in removing predatory payday lending from Arkansas in 2009. Klein's expertise, passion and persistence during the legislative session that recessed April 3 of this year helped stop predatory lenders from regaining a foothold in our state.

Senate Bill 658 by Arkansas State Sen. Jason Rapert—a bill that Klein helped persuade legislative committees to endorse through his expert testimony—ultimately passed both the state Senate and the state House of Representatives. Gov. Asa Hutchinson has signed the bill into law and it is now Act 944 of 2017.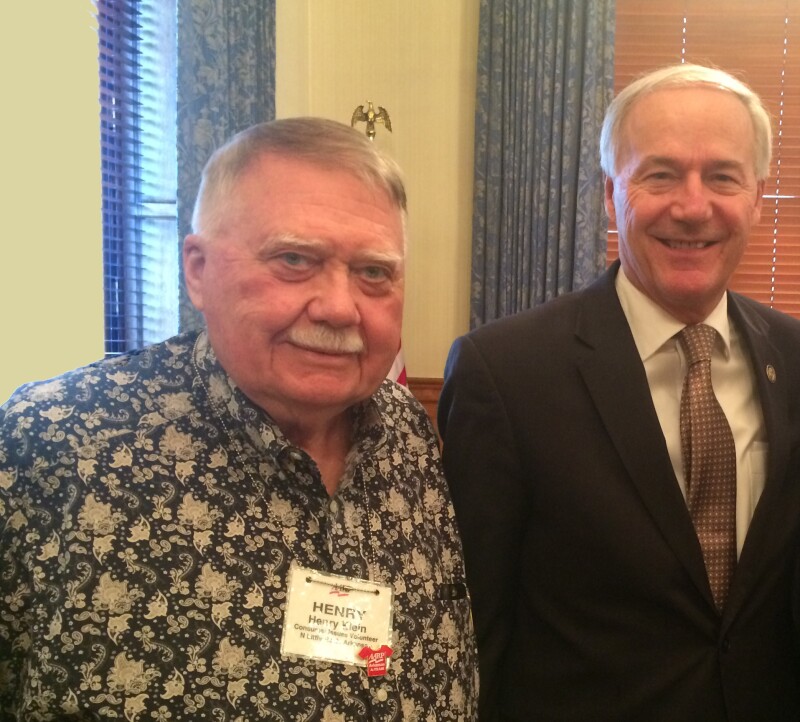 Act 944 closes a loophole used by an out-of-state predatory lender to charge Arkansans up to 280 percent Annual Percentage Rate (APR) interest, despite the Arkansas Constitution's voter- approved 17 percent APR cap on consumer loans interest.

Klein testified before legislative committees in favor of Act 944—and against another bill that, if passed, would have essentially legitimized the loophole.

"...[E]ven though the current law makes it clear that [the out-of-state lender] fees are included in the Arkansas usury limit of 17 percent, [SB658] makes it VERY clear those loans (including all fees and charges) cannot exceed our Constitutional usury limit of 17 percent," Klein testified before the House Insurance and Commerce Committee, which endorsed SB658 on March 15.

Klein, AARP Arkansas Leadership Volunteer for Financial Issues, in testimony before the same committee on March 27 warned that approving the other bill would open the door for the out-of-state lender plus similarly predatory lenders to cite state law in evading the constitutional 17 percent cap.

"What the sponsor of this bill is trying to do today is to get this committee to turn these illegal loans, with an interest rate of 280.82 percent, into legal loans with an interest rate of 190.06 percent," Klein testified. This bill failed to clear the committee.

A famous quote from the Spanish philosopher George Santayana (1863-1952) applies to Arkansas' experience with predatory lenders: " "Those who cannot remember the past are condemned to repeat it."

From 1999-2009, hundreds of payday lenders operated in Arkansas, charging triple-digit interest rates on loans and ensnaring consumers in long-term debt traps. Payday lenders set up shop in Arkansas thanks to a 1999 state law in which payday loan costs were defined as "fees" instead of interest--specifically to avoid the 17 percent constitutional interest cap.

Ironically, this 1999 law act that proponents—the payday lending industry chief among them—claimed would "regulate" the industry enabled payday lenders to charge as much as 872 percent APR interest.

A 13-year fight for consumers
Klein, a retired credit union executive, for over 13 years has, through persistence, diligent research, encyclopedic knowledge of loans and financial practices and a dedication to help consumers become better informed, become a very effective advocate.

For his efforts on behalf of payday lending victims, Klein received AARP Arkansas' 2008 Andrus State Award for Volunteer Service. The Andrus Award, named for AARP founder Dr. Ethel Percy Andrus, is AARP's most prestigious and visible state volunteer award.

In 2004, Klein founded Arkansans Against Abusive Payday Lending (AAAPL), a coalition that included AARP Arkansas. That year, the payday lending industry was nearing its peak in Arkansas. Two years later, payday lenders topped out in Arkansas, with 275 locations—more than twice the number of McDonald's restaurants then located in the state.

Beginning in late 2004, a series of eight detailed studies researched and written by Klein were released publicly by AAAPL and received extensive coverage in the news media. A 2006 report by Klein documented that barely a quarter of payday lenders in the state were licensed and regulated by the state, as required under the 1999 law.

Other payday lenders didn't even make a pretense of abiding by the 1999 law and charging "just" 872 percent APR interest. In one example documented by Klein, a payday loan borrower was charged over 3,000 percent APR.

Gradually, state oversight of payday lenders increased somewhat, but the central issue of interest charged didn't change. Some payday lenders saw the veritable writing on the wall, recognizing that eventually, the Constitution's 17 percent cap would be enforced. As the graphic below illustrates, between early 2006 and late 2007, the number of payday lenders in Arkansas decreased by 13 percent.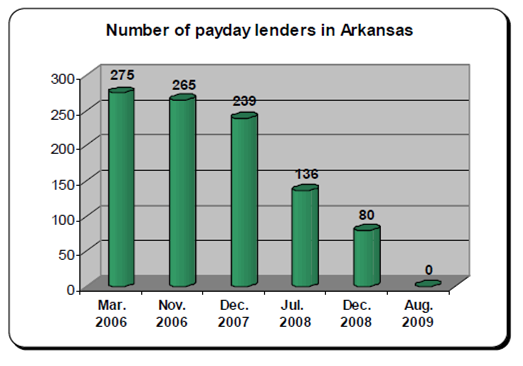 In early 2008, then-Arkansas Attorney General Dustin McDaniel initiated a crackdown on Arkansas payday lenders. A few months later, the payday lender ranks had declined by a substantial 43 percent. Finally and ultimately, the Arkansas Supreme Court in November 2008 declared the 1999 state law unconstitutional. One month after the high court ruling, 80 holdout payday lenders remained, but gradually those, too, shuttered their operations.

Finally, in July 2009 , thanks significantly to Klein's efforts, the last payday lender closed its doors in Arkansas, after nearly a decade of a predatory industry

"What appears to be a financial lifeline turns into an anchor that drags people down," Klein says.

Predatory lenders' attempted comebacks, 2011-2017
In both 2011 and 2013, out-of-state lenders lobbied the Arkansas Legislature to pass bills that, like the unconstitutional 1999 law, would have redefined interest to get around our Constitution--and charged customers much more than 17 percent APR. AARP Arkansas, with Klein taking the lead in research and testimony, successfully led the fight against these bills.

Little was heard again in Arkansas from high-cost lenders until 2016, when a business called CashMax, which also operates in Texas and Ohio, opened storefronts in North Little Rock and Hope. When questioned about the loans' cost, CashMax cited the loophole that SB658 closes. Meanwhile, CashMax customers paid up to 280 percent APR interest, according to Better Business Bureau of Arkansas.

Closing this loophole was among AARP Arkansas' 2017 Legislative Priorities. In another memorable contribution to the fight against predatory lending, AARP can thank Klein for one of the more effective advocacy tools used to persuade legislators to support SB658.

AARP Arkansas' advocacy volunteers wore red "17% caps" at the state Capitol during this legislative session to show AARP's strong support for SB658 and for the constitutional 17 percent cap (see photo below).

For well over a decade, Klein has tirelessly dedicated countless hours of his time, energy, and knowledge to help educate Arkansans about the pitfalls of predatory lending. Arkansas is a much better place for consumers because of his efforts.