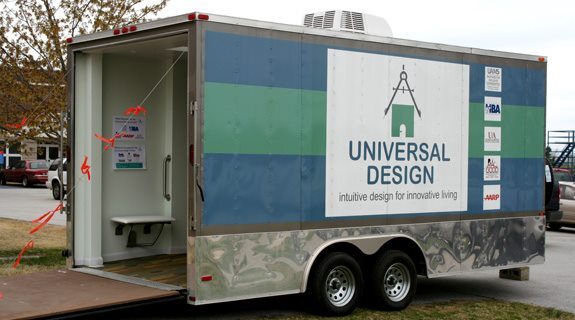 Universal Design Arkansas, a coalition including AARP Arkansas, hosted an event at the state Capitol recently that introduced Arkansans to the concepts and rationale behind universal design and featured on-site tours of a universally designed model home bathroom housed inside an 18-foot Mobile Display.

See also: Designing for Better Living: Opportunities for Universal Design in Home Modifications

Universal design is an approach to the design of products, services and environments to be usable by as many people as possible regardless of age, ability or circumstance and has been recognized by governments, business and industry. It links directly to the concept of an inclusive society, especially for people with functional limitations.

AARP Arkansas State President Sherry Walker said her organization supports universal design because it is one of the ways that helps people stay in their homes if their health declines rather than go to a nursing home. "Aging in place" is a philosophy supported by AARP, a nonprofit, nonpartisan organization that helps people 50+ have independence, choice and control in ways that are beneficial to them and society as a whole.

"One of the key ideas behind aging in place is to plan ahead," Walker said. Universal Design Arkansas coalition members include AARP Arkansas; Arkansas Department of Human Services, Division of Aging & Adult Services; Arkansas Home Builders Association; Partners for Inclusive Communities; University of Arkansas for Medical Sciences/Center on Aging – Northeast; University of Arkansas for Medical Sciences/Delta Center on Aging; and University of Arkansas System Division of Agriculture.

"Universal design strives to be a broad-spectrum solution that helps everyone, not just people with disabilities," said LaVona Traywick, Associate Professor of Gerontology, University of Arkansas System Division of Agriculture. "Moreover, it recognizes the importance of how things look."

Vanessa Nehus, Principal Investigator, Arkansas Disability and Health Program, Partners for Inclusive Communities at the University of Arkansas, noted that 26 percent of Arkansans report some kind of functional limitation. A functional limitation is defined by the World Health Organization as "any health problem that prevents a person from completing a range of tasks" such as bathing, cleaning house and cooking. Functional limitations make a supportive environment essential for a person to maintain his or her independence, and universal design provides that much-needed support, Nehus said.

"People often discover the need for universal design features at the worst time financially and emotionally – when they face the needs of aging parents, temporary or even permanent disability," Nehus said. "The Universal Design Mobile Display was developed to provide education about this need before it's an emergency."

The Mobile Display visited four home shows in 2012, during which tours were given to more than 1,400 people. In addition to raising awareness among homeowners, coalition sponsors hope that home builders and designers will take a message to heart – "Build it right the first time" – so that homes will be ready to accommodate homeowners whenever the need arises.

More information about the Mobile Display and Universal Design Arkansas is available on the coalition's web site and Facebook page.