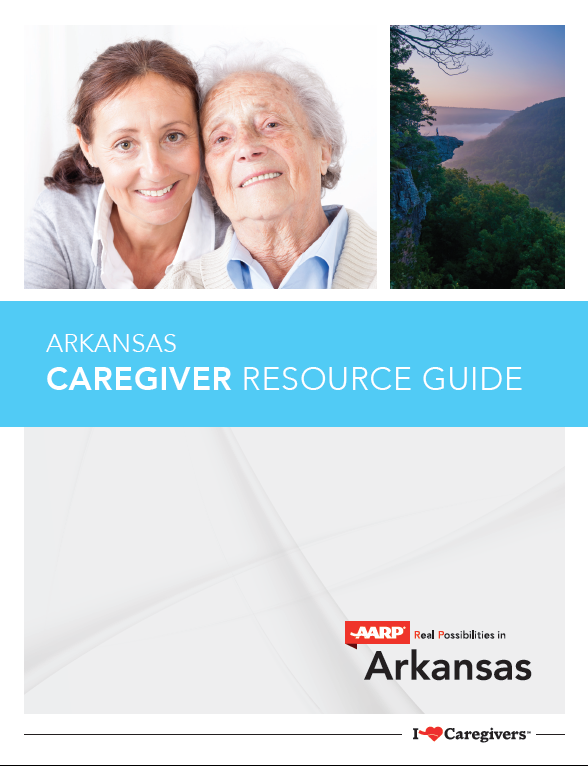 The Arkansas Caregiver Resource Guide was developed by AARP with caregivers in mind—as a starting point to help them find the services and support they need throughout their caregiving journey.

This updated-arkansas-caregiver-resource-guide_dec_2016 features updated and expanded information on:

Arkansas Resources, including the Department of Human Services, Division of Aging and Adult Services; the Senior Health Insurance Information Program (SHIIP); and several providers of free Caregiver Training/Counseling.

National Resources, such as Alzheimer's Association; the National Respite Locator; Medicare; and Veterans Administration Caregiver Support.

AARP Caregiver Resources, such as the Caregiving Resource Center; AARP Caregiving App; and I Heart Caregivers, an initiative to recognize family caregivers by providing them a place to share their stories and learn how they can help improve caregiver support in their state.

You must have Adobe Reader installed on your computer or mobile device to download the updated Arkansas Caregiver Resource Guide. If you do not have Adobe Reader, you can get it here.

Family caregivers help their parents, spouses, and other adult loved ones with medications, meals, bathing and dressing, chores and even complex medical tasks. In Arkansas, about 452,000 caregivers provide uncompensated care with an estimated economic value of $4.7 billion.

Many caregivers do it all while also working full- or part-time. Family caregivers are the first line of defense against older Arkansans returning to the hospital—and it's not easy. Some are on call 24/7, and often they can't even take a break.

While these family caregivers wouldn't have it any other way, they can use our support and help. The latest edition of the updated-arkansas-caregiver-resource-guide_dec_2016 is designed to provide both.

Another key resource is the Arkansas Lay Caregiver Act. Passed and signed into law as Act 1015 of 2015, it does four simple but important things— Designate; Notify, Consult and Demonstrate. The Act requires hospitals to:

Provide each patient or the patient's legal guardian the opportunity to designate a caregiver.
Notify the patient's caregiver of the patient's discharge or transfer prior to the discharge or transfer.
Consult with the designated caregiver to prepare the caregiver for the patient's aftercare needs, including giving the caregiver the opportunity to ask questions.
If necessary, demonstrate tasks to the caregiver necessary for aftercare.
If you are a caregiver, you are not alone.