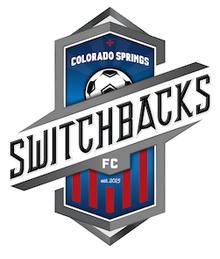 Join AARP as the Colorado Springs Switchbacks take on the Sacramento Republic Football Club.
Come by the AARP table and meet AARP staff and volunteers and hear about the things AARP is doing here in the community. AARP members and their guests receive a discounted ticket and service fees are waived.
Colorado Springs Switchbacks Football Club vs. Sacramento Republic Football Club
Friday, August 14, 2015
7:00 p.m.
Sand Creek Stadium - adjacent to Sky Sox*
6303 Barnes Road
Colorado Springs, CO 80922
*This is not the Sand Creek High School Stadium
AARP members will be charged $12/ticket instead of $15/ticket. The processing fees will be waived. Tickets bought will be sent by email at no extra charge, however there will be a $5 fee for will call pick up if customers want The Switchbacks to print it out for them and pick it up at the gates.
Members may purchase tickets by calling 719-368-8480 extension 109 or by email  and referencing AARP. The discount will be applied to all purchases completed on or before August 14, 2015 at 6:59 p.m. local Colorado Springs time.
*This is not an AARP event. Any information you provide to the host organization will be governed by its privacy policy.