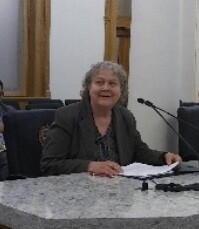 AARP Colorado recently named Carol Pace of Denver to receive the 2019 Andrus Award for Community Service, the Association's most prestigious volunteer award, which honors the legacy of AARP founder Dr. Ethel Percy Andrus.
"This award is a symbol of the power of individuals to make a difference in the lives of others," said AARP Colorado state director Bob Murphy, who formally presented the award to Pace at a ceremony in Denver on Oct. 15. "In the true spirit of Dr. Ethel Percy Andrus, we are thrilled to name Carol Pace the 2019 AARP Andrus Award winner."
Since 2011, Pace has been a volunteer with AARP as a lead advocate on AARP Colorado's advocacy team and as a tax-preparer in the nonprofit's Tax-Aide program. With an eye on health care for all, Pace is an AARP advocacy volunteer who is a true leader. She works tirelessly for older adults and those with lower incomes, and she is tenacious about it.
Her testimony to the Colorado Legislature, under the AARP banner, has resulted in significant statewide contributions in the areas of accessibility, affordability, safety and security of health care for Colorado seniors. She is particularly passionate about the necessity for strong oversite and advocacy for Colorado's rural areas and their need for affordable and available health care.
Outside of AARP, Pace also volunteers for the Colorado League of Women Voters and coaches Denver Public School students in speech and debate.
Additional awards AARP Colorado will bestowed on other volunteers include for following:
· Dr. Mary Fries – AARP Legislative Volunteer of the Year
· Mary Lou Doehrman Bride/New Falcon Herald of Colorado Springs – AARP Business Award
· JJ Jordan/Dementia Friendly Denver – AARP Community Partner
· The AARP Program Strategic Award Winners:
o Stephen Blucher of Colorado Springs
o Nicole Kain
o John Giarratano of Pueblo
o John Rodwick of Fruita
o Terri Potente of Fruita
o Merry Weis
· The AARP Community Service Award Winners:
o Jim and Lori Belk of Colorado Springs
o John Joffrion
o Jerome Kerrigan
o Lauren Kubin of Fort Collins
o Dr. Ruth Fletcher-Carter of Berthoud
o Rocky Williams
· Joe Pells – Lifetime Achievement
· AARP Fraud Helpline volunteers – AARP Volunteer of the Year