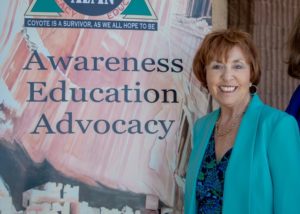 Dear Friends:

November is National Caregivers Month which is a great achievement. It is a recognition of the thousands, millions of caregivers who are providing much needed services for a loved one. And, we are proud to have received a Proclamation from the Governor of Arizona for the week of November 16th‐ 23rd, 2019, to be celebrated as Cancer Caregivers Week. Arizona Myeloma Network, AzMN® and our Cancer Caregivers Education Programs® have worked tirelessly over the past 15 years to raise more awareness of needs not only of cancer patients, but their caregivers and families.

There is also legislation initiated by AARP, that is beginning to address some to these issues by requiring hospitals and other treatment facilities to provide training, education, and resources to the caregiver/family before the patient leaves the facility and goes home. The CARE Act, Caregiver Advise, Record, Enable, an AARP initiative, has been enacted in 40 States, including Colorado, Puerto Rica, the

U.S. Virgin Islands, and the District of Columbia. Tennessee, Iowa, and North Dakota have also adopted this measure.

The goal is to reduce re‐hospitalizations and also reduce stress for the caregiver and the family.
I know that all of you are only too aware of the challenges you face and the effect on not only the patient and caregiver, but the entire family and 'circle' of friends, employers, colleagues, and the 'economy'.

Once you get on the 'Carousel of Care', it feels sometimes that you are going round and round and up and down. In dealing with cancer, our roles and responsibilities can change in an instant but certainly as the disease progresses or even when it is 'stable' or in remission, there are often 2ndary health issues and drug side effects, etc.

A lesson to be learned is knowing when to ask for help, whether it is from the medical team or from neighbors, family and friends. Recently, one of the guest authors for my Book, 'Living with Cancer, A CareGivers Journey®, talked about her experience of being a 'long distance' caregiver to her sister‐in‐ law. She had some wonderful advice to offer.

· If you can't 'be there' in person: phone calls, 'facetime', loving and positive notes, special gifts, or photos of happier times.

· Contribute to the caregiving needs financially, or by organizing her 'local' caregiving circle of friends,neighbors, Church, School,etc. and also special treats or trips for her children.

· Remember to also consider the 'husband', who is often the primary caregiver for the rest of the family and give him a call too.

· And, when you can visit in person, try and meet the medical team as well so that you are prepared to plan both short and long term needs.

· Most of all, even though it is often depressing and scary to talk to a loved one with cancer, it often is helpful to them and sharing the fear, pain, and practical issues can be a relief for the patient and the family.


Remember to 'thank' a caregiver in your own life or 'thank' yourself with some 'time off' or a fun and relaxing activity. .. a massage and facial is my idea of a 'thank you'.
And, also Happy Thanksgiving Day to All of us. We are all thankful to the amazing researchers, doctors, and the new advances in treatment and thankful for the privilege of caring for the one we love.

Warm Regards,
Barbara
www.azmyelomanetwork.org www.cancercaregiversaz.com

Barbara Baroff Kavanagh, MSW, LCSW

Barbara B. Kavanagh is the Founder and CEO of Arizona Myeloma Network (AzMN). She is a published author and served as faculty for universities including Boston University, Boston College Graduate School of Social Work, and Arizona State University. She holds a master's degree in Social Work from Boston University and a bachelor's from Duke University. Her first business, People to People Associates, Inc., a counseling, consulting, and training company, operated for fifteen years in Lexington, Mass.

AzMN is 501(c)(3) nonprofit organization started in 2004 by Barbara and her husband Jack who is a 27-year survivor of multiple myeloma. In 2003, they moved to Arizona to be near the Mayo Clinic for his ongoing treatments. In 2005, Barbara organized the first of many Living with Myeloma Roundtable and Conferences in Scottsdale, AZ. The conference attracted more than 300 attendees annually. All AzMN programs are designed to educate cancer patients, cancer caregivers, oncology healthcare professionals, researchers, and the public on the newest in cancer treatments and how to give and receive the best possible care.

AzMN has delivered hundreds of cancer patient and caregiver conferences throughout the State. Multiple Cancer Caregiver Education Program (CCEP TM) conferences are scheduled in 2018. Conferences are free and open to the public. They provide cancer patients and their caregivers the practical knowledge, skills and strategies necessary to effectively care for themselves. CCEP TM is a customizable program for companies and healthcare organizations that want provide onsite training for employees and constituents.

The Office of the Governor of Arizona recognizes AzMN with a proclamation annually designating a week in March as "Arizona Myeloma Awareness Week." AzMN is recognized by Great Nonprofits as a "Top-Rated Nonprofit" for multiple years. Barbara, herself, continues to receive awards for her work. She is the recipient of the prestigious Hon Kachina Outstanding Volunteerism Award, The Phoenix Business Journal's Healthcare Hero Award, the Arizona Rural Healthcare Association Volunteer of the Year award and the 2014 Arizona Business Magazine's Healthcare Leadership Award for Community Outreach. She was profiled as a Woman of Distinction in the 2016 edition of WOD Magazine. She is featured on radio, television, and in publications.

Barbara and Jack are mentioned in Tom Brokaw's book A Lucky Life Interrupted: A Memoir of Hope. Her books on volunteerism and patient advocacy include The New Volunteerism, A Community Connection; The New Partnership: Human Services, Business and Industry; and Training Volunteers in the New Millennium: An International Connection reflect a life dedicated to teaching and mentoring others to achieve their goals and transform their own lives and those they touch. She is currently working on her next book "Caring for the Cancer Caregiver". Her intent is to provide practical information on how to navigate the complex world of cancer patient and caregiver survivorship.