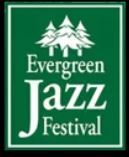 Evergreen, Colorado, is about 1,400 miles from New Orleans. But July 26-28, the scenic mountain community will become "Bourbon Street with Altitude" as it hosts the 18th annual Evergreen Jazz Festival.
Nationally known for its combination of top bands, intimate venues and appealing mountain setting, the festival will offer over 80 hours of live traditional jazz ranging from Dixieland to swing, blues, boogie-woogie and more. Eleven bands from Colorado and across the country will appear, with four stages active at any one time.
Patrons are free to move from venue to venue to enjoy their favorite bands or simply select one venue and let the music come to them. Either way, it is an up-close-and-personal event. No big crowds. No big stages. No big sound systems. Just a big jazz experience that one national columnist tabbed as "The best jazz festival anywhere!"
For all the details and to order discount tickets, visit www.EvergreenJazz.org or call 303-697-5467. Ticket discount expires June 30th unless sold-out sooner.
*This is not an AARP event. Any information you provide to the host organization will be governed by its privacy policy.