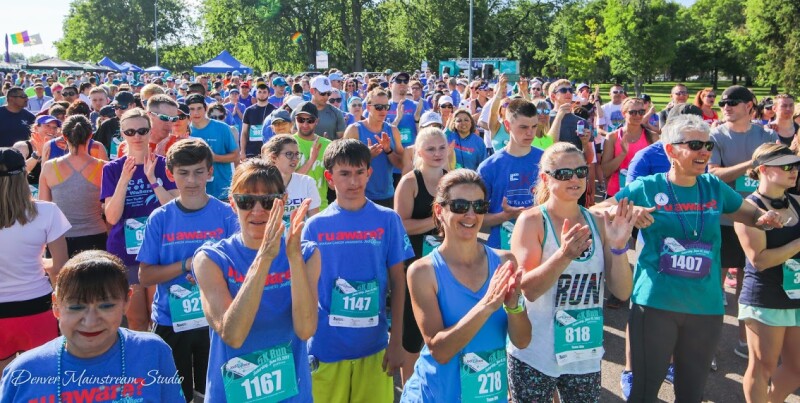 Did you know ovarian cancer is the deadliest gynecologic cancer? One in 72 women in Colorado will be diagnosed with invasive ovarian cancer. The most common age of diagnosis is between 55 and 64 and the majority of those diagnosed have no family history.
Learn additional facts about ovarian cancer – and help the Colorado Ovarian Cancer Alliance (COCA) to educate women (and the men who love them) – by joining thousands of runners and walkers Saturday, June 9, 2018 in Denver's City Park for the 9th Annual Jodi's Race for Awareness. Presented by Cancer Treatment Centers of America, this popular community event includes a 5k Run/Walk, 1-Mile Family Walk, Family Fun Zone, Furry Friends Dog Zone, expo area and live entertainment.
Registration for the 2018 Jodi's Race for Awareness is underway online at www.jodisrace.org. Participants are encouraged to increase their impact by forming teams with family, friends and coworkers. A Virtual Run and Ova Sleep option are available for those who can't make it to Denver's City Park on June 9. Great prizes will be awarded to the top fundraisers and finishers, and all who participate will receive a prize tucked inside a teal egg at the finish line.
While the median age for being diagnosed with ovarian cancer is 63 years old, ALL women and girls are at risk. Since there is no specific screening test for ovarian cancer, and an annual gynecological exam does not check for this cancer, early detection of the most common symptoms (bloating, pelvic or abdominal pain, difficulty eating or feeling full quickly, and urinary urgency or frequency) is critical to saving lives. Women who have these symptoms almost daily for more than a few weeks should see their doctor, preferably a gynecologist. Prompt medical evaluation may lead to detection at the earliest possible stage of the disease. Early-stage diagnosis is associated with an improved prognosis.
All money raised from Jodi's Race remains in Colorado and funds COCA's programs that support women with ovarian cancer, including COCACares Financial Assistance, Nicki's Circle Support Groups, Ovarian Cancer Resource Guide, Comfort Kits for the newly diagnosed, and Survivors Teaching Students: Saving Women's Lives®, a national program of the Ovarian Cancer National Alliance (OCNA). To learn more about COCA and its initiatives, call 303-506-7014.
AARP members will receive a 10 percent discount upon registration for the 5K & 1 Mile Run/Walk. benefiting the Colorado Ovarian Cancer Alliance (COCA).
Register online. Use code ANDRUS2018.
*This is not an AARP event. Any information you provide to the host organization will be governed by its privacy policy.