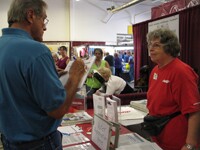 This year's BeaconFest Boomer & Senior Fair* will be bigger than ever. With booths from more than 100 vendors displaying senior-related products and services. BEACON Senior News' annual mature lifestyle expo in Grand Junction has kept up with western Colorado's growing retiree population, making it among the largest senior fairs in the state.
The 19th annual boomer and senior expo takes place will be Tuesday, April 16 at Two Rivers Convention Center in downtown Grand Junction, 9 a.m.-3 p.m. Admission is free! Stop by the AARP Colorado booth and learn more about AARP.
"BeaconFest is a one-of-a-kind event for seniors in the Grand Valley and a fun way for the BEACON to celebrate our readers and our community," said BEACON Publisher Kevin VanGundy. "This year's show is our biggest boomer and senior expo ever with over 100 vendors and 2,500 expected visitors, making it the biggest, and still the best, senior event in Colorado."
Attendees can immerse themselves in a day of high-energy music, great food, lively seminars and giveaways every half-hour. Enjoy performances from King 'n' Trio, Javier de los Santos, Peggy Malone and other local entertainers throughout the day, and try your luck at Bingo for a chance to win a cash prize. Games start at 1 p.m.
The biggest prize of all takes place at 2:30 p.m. when two tickets to see the Rolling Stones' at Broncos Mile High Stadium in Denver will be given away to one lucky winner. You must be present to win.
Don't miss the chance to honor 12 outstanding volunteers at the highly anticipated Volunteer of the Year ceremony, which takes place at the main stage at 1 p.m. Volunteers will be recognized for their contributions to community organizations, and the reader-selected Volunteer of the Year will be revealed.
Cast your vote for Volunteer of the Year at www.BeaconSeniorNews.com.
For more information about BeaconFest, call 970-243-8829 or visit www.BeaconFest.BeaconSeniorNews.com.
*This is not an AARP program. Any information you provide to the host organization shall be governed by its privacy policy.