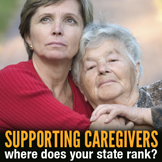 Delaware's population is aging faster than the national average. Are supportive services for long-term care adequate to deal with this trend?

A state-by-state scorecard recently published by AARP, the Commonwealth Fund and the SCAN Foundation shows looming shortfalls in Delaware. The state ranks 28th overall when it comes to meeting the long-term care needs of its older residents and those with disabilities.

Delaware did well on quality of life and quality of care, coming in at No. 6. But the state ranks a distant 40th on support for family caregivers.

AARP is working with other organizations to improve long-term care options for older Delawareans and their caregivers.