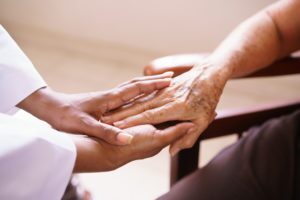 AARP Georgia announced its legislative priorities that will be explored under the Gold Dome during the 2019-2020 Legislative Session. AARP Georgia, with more than 1 million members, advocates for its members who are aged 50-plus.
This legislative session, Advocacy Manager Melissa Sinden and a host of AARP Georgia volunteers will seek to engage with elected officials to help advocate for 1) expanding the reach of broadband in rural areas; 2) advancing the implementation of telehealth to connect patients with their health care professionals; and 3) helping to pass the Authorized Electronic Monitoring in Long-term Care Facilities Act (HB 135 and see attached flyer for more details) that would make it permissible for families to have video surveillance cameras in the rooms of their loved ones who are in a long-term care facility.
"Your geographic location shouldn't impede on your ability to receive quality health care," said Advocacy Manager Melissa Sinden. "Whether that means access to adequate internet speeds for utilizing telehealth and telemedicine services, or the ability for nursing home residents and their family members to install a monitoring device in the resident's room to engage in virtual visitations, there's room for improvement in Georgia."
Currently one in four Georgians is without access to high-speed internet. Affordable, reliable internet access helps older adults to age in place productively and safely, with a higher quality of life than would otherwise exist. In addition to access to telehealth and telemedicine, the broadband platform supports civic engagement, entertainment, on-line learning and other internet-based applications that address isolation and health challenges.
"Advocating for the health and well-being of those who are 50-plus is our main priority," said Georgia State Director Debra Tyler-Horton, "We want to use every resource at our disposal to help our members live their best lives possible." HB 135 Fact Sheet FINAL