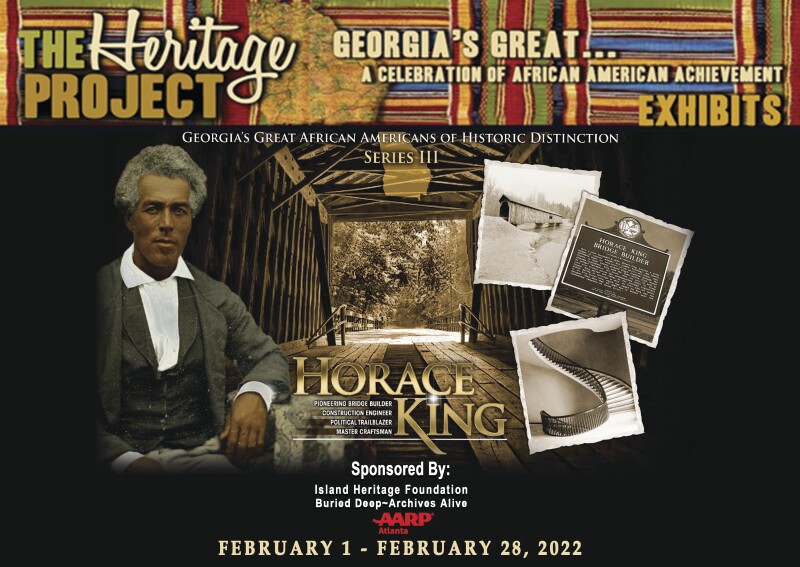 During the month of February, as we celebrate Black History Month, AARP Atlanta invites you to a virtual exhibit, hosted by The Heritage Project, which honors the life and legacy of pioneering bridge builder and master craftsman, Horace King.

Horace King built his legacy at a time when the overwhelming majority of African Americans were still in bondage. Transcending race and class, and without any formal training or education, Horace King built more than 100 bridges during his career.

The Horace King exhibit is the 3rd installment in the exhibition series, "Georgia's Great African Americans of Historic Distinction" which chronicles the lives of prominent African American men and woman who triumphed over racial oppression to achieve historical acclaim.

AARP Atlanta is proud to join with The Heritage Project to honor the lives of Georgia's great sons and daughters. Through the Horace King exhibit, we celebrate resilience and strength - and we find collective joy and pride in the accomplishments of African Americans across the state and the legacy they leave behind.

The virtual exhibition will launch on February 1, 2022 and will run through February 28, 2022. The exhibit is free and open to the public. In order to access the exhibit, you must REGISTER.
For more information, visit The Heritage Project.