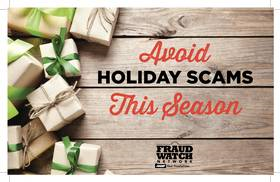 The year may be winding down, but not the ploys that have proved most successful for scammers. In the link below, you can find the top fraud trends for 2017.
https://www.aarp.org/money/scams-fraud/info-2016/2017-scams-to-avoid.html
We at AARP Georgia want this holiday season to be merry and bright for all of you! With a few practical steps, you can protect yourself.
Report scams to local law enforcement. Contact the AARP Fraud Watch Network at www.aarp.org/fraudwatchnetwork for more information on fraud prevention.