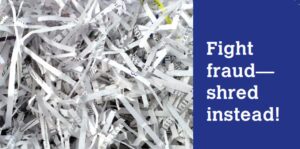 This is definitely a sobering fact, and one that can help be prevented by shredding materials that include sensitive information, such as your date of birth, social security number and PIN.

To help consumers protect themselves from ID theft, AARP Georgia will host a free Fraud Watch Network shredding event Saturday, Dec. 9 in Atlanta.

AARP will partner with a local shredding provider to take any confidential documents you no longer need and shred them at no charge.

Shredding will be done on-site, which is the most secure way to shred. Plus all material is 100 percent recycled. In two or three weeks, shredded documents will become paper towels, napkins or bathroom tissue.

When: Saturday, Dec. 9 from 1 p.m.-4 p.m.
Where: 1530 DeKalb Ave., Atlanta, Ga. 30307

For more information, contact Hillary Thomas at hthomas@aarp.org.