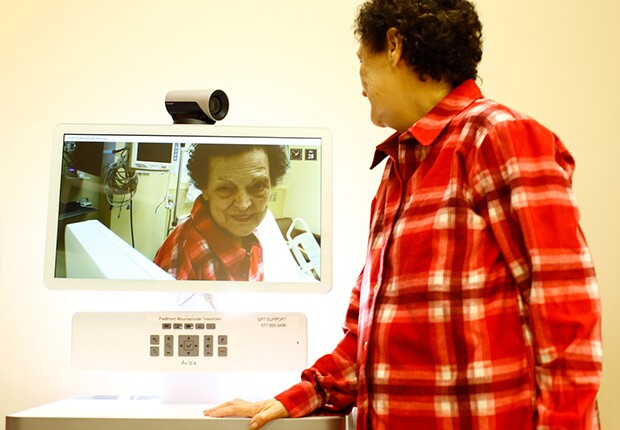 By Ann Hardie

Unable to catch her breath, Juanita Wilkie was admitted to Piedmont Mountainside Hospital in Jasper and seen by a doctor—who was in Israel.

The examination—done from 6,400 miles away—was possible thanks to the hospital's high-speed internet and a mobile cart with monitor, computer and high-definition camera, used to connect to the Jerusalem doctor.

"He even listened to my heart on that thing," said Wilkie, who was treated for double pneumonia and is now home and feeling much better.

The 76-year-old retiree is among a growing number of Georgians benefiting from the state's enthusiastic embrace of telemedicine—the use of technology to virtually connect patients and health care providers.

Many of the patients are older, and most live in rural areas, where there is a critical shortage of doctors.

The General Assembly, with support from advocacy groups including AARP Georgia, is exploring ways to improve broadband access in remote regions so telemedicine can be practiced there. In areas with high-speed internet, residents statewide are connecting through clinical settings to primary care physicians as well as to specialists concentrated in Atlanta and other cities, and even in other countries.

If patients do have to travel to urban areas for advanced medical care or surgery, they may cut down on those visits by using telemedicine for consultations, preoperative screenings or postoperative follow-ups.

Ahead of the curve
Georgia was an early adopter of telemedicine; since 2005 state law has required insurers to cover remote medical services.

The focus on telemedicine was born out of necessity.

Of Georgia's 159 counties, eight have no doctor of any specialty; 37 lack an internal medicine physician; 78 lack a general surgeon; and 54 lack an emergency medicine physician, according to 2017 data from the Georgia Board for Physician Workforce, which is charged with identifying ways to address doctor shortages.

The Georgia Department of Public Health is helping county health departments improve access to care through telemedicine.

"It is no longer this supercool innovative solution; it is now becoming another standard modality of care," said Suleima Salgado, director of Telemedicine and Rural Health Initiatives for the state health department.

Telemedicine is also helping to knock down one of the biggest barriers to health care for many older people: transportation.

"For some patients, if they have to go outside of their community to get care and there is no bus or a family member to take them, they are going to miss appointments, which is putting them at risk for complications," Salgado said.
Then there are the emergency visits that people can't plan for. Wilkie was skeptical when a nurse explained that she could see a doctor over a screen.

She talked it over with her husband and daughter, and they agreed to give telemedicine a try. They were impressed with the doctor's thoroughness, knowledge and patience.

"He took all the time in the world with us, and we really enjoyed the experience," Wilkie said. "I would do it again."

Ann Hardie is a writer living in Atlanta.