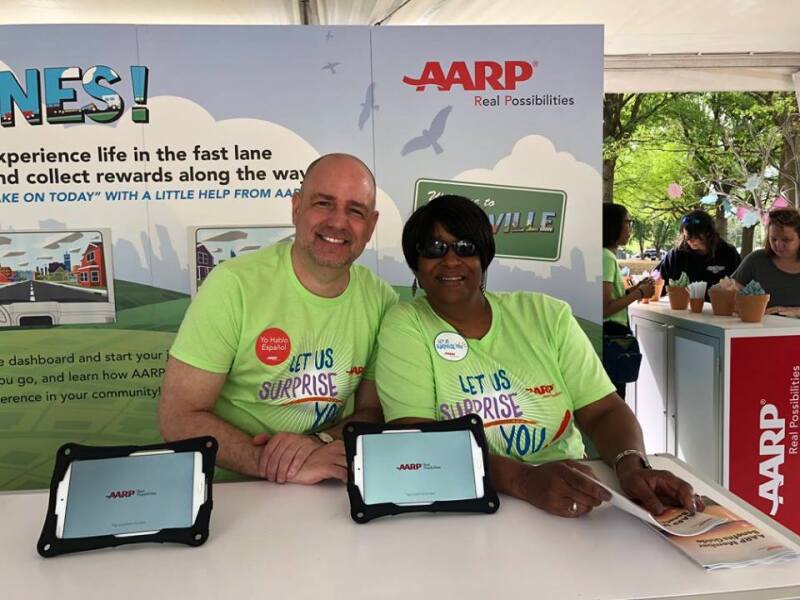 Join AARP Georgia volunteers and staff at the Atlanta Dogwood Festival in Piedmont Park April 12-14! The AARP tent will be on the 10th Street side, somewhat adjacent to Grady High School.
Visitors will have the opportunity to engage with AARP staff and participate in various activities, including:
• Digital Memory Game – The classic memory match game goes digital. Attendees touch tiles to reveal information about AARP programs and offerings. When they find a match, the pair lights up and the message is highlighted on the board for all to see.
• Interactive Vending Machine – Attendees will enter their information into a vending machine that will distribute AARP-branded travel-related prizes. Everyone 18 years old and above, will also be entered for a chance to win a $1,000 gift card towards a fantastic vacation
• Photo Booth – Attendees will enter their data and take a picture in front of a green screen with a fun design. They will have several backgrounds to choose from, and they will receive not only a physical copy of the picture, but also have an animated GIF emailed or texted to them
• Prize Wheel – Attendees will take a spin on the wheel to win an AARP-branded prize including ear buds, cooling towels, playing cards, and more
• Members Get More: AARP members that self-identify at the Block Party will be encouraged to press a buzzer on our Member's only display and will receive their special Member's only gift.
• AARP Foundation: the Block Party is also highlighting Connect2Affect, powered by AARP Foundation. Attendees will take home a magnet with a tip that may help increase connections with a family member, neighbor or friend. They will also have the opportunity to answer the question: How do you stay connected to your community?
For more information about the Dogwood Festival, please click here.